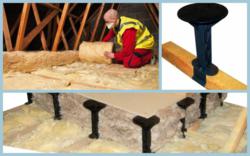 Now you do not have to worry about losing storage space in your loft when you insulate it with 10 inch thick insulation - 'Loft Storage Stilts' are simple to install and available at all B&Q stores now.
(PRWEB UK) 27 January 2012
Winter is here and as the weather gets colder many people are thinking about getting their lofts insulated. Loft insulation is one of the cheapest home improvements that can be done and yields an impressive return on money spent. However, many people choose not insulate their lofts as this would require giving up some, or all, of the storage space in the loft.
In the past giving up the storage space was a necessary consequence of insulating to 10 inches (270mm) as the joists in a loft are rarely more than 4 inches (100mm) high and for insulation to be effective it should not be compressed. What most don't know is that now a simple, yet innovative DIY product has just been released in the UK to allow full loft insulation without the loss of any storage space.
'Diall Loft Storage Stilts' now allow anybody to easily create a raised storage platform in the loft that hovers above 10 inch thick insulation without compressing it. This enables the insulation to be most effective while maximising storage space. With this new product, which is made completely from recycled plastic, there is no trade-off between saving money and retaining usable loft space. Loft Storage Stilts are also incredibly strong and each one can support more than 500kgs of weight, much more than the boarding or joists in a loft can hold.
Loft insulation professional and inventor of 'Diall Loft Storage Stilts,' David Ferguson explains why he felt this new product was necessary. "Even though gas and electricity bills are at record highs, many people refuse to insulate their lofts, despite government grants, because they can't bear the thought of losing any storage space, much less all of it. I knew there had to be an easier way than raising the joists with timber, which is too difficult for most people to do themselves. So I created a simple way for people to increase the height of the joists. Surprisingly, a product like this had never been invented before."
With B&Q selling 'Diall Loft Storage Stilts' in all their stores across the UK (£19.98 for a box of 12) they are now widely available and easy to find.
If everyone in the UK properly insulated their loft to building regulations this would save hundreds of thousands of tonnes of CO² emissions in the UK each year – not to mention that it could reduce each homes energy bill by up to £175 every year. (Energy Savings Trust). These benefits have never been more important than in our current state of recession and environmental change.
People are generally aware that everybody can get a grant from the government to have their loft fully insulated. The cost is anything from £0 to around £225 for a professional installer depending on the circumstances and size of loft. DIY loft insulation is also extremely cheap at the moment as the government grants are included in the price of the material. For example, a roll of insulation that normally sells for around £20 now sells for approximately £5.
With insulation prices at an all time low and innovative products such as 'Diall Loft Storage Stilts' so readily available, there has never been a more incentives to having a warmer home, helping the environment and saving money on your energy bills.
###