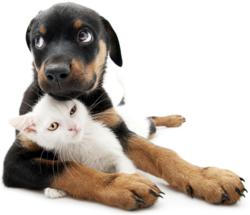 This is one drawing every dog and cat owner will want to enter!
Columbia, SC (PRWEB) January 09, 2012
To help promote their low-cost veterinary clinics, ProtectMyPet® will be giving away pet vaccination services at each of the pet and tractor supply stores they service in South Carolina. One lucky pet parent at each store will win vaccinations for the life of their pet, a prize that can save the lucky winner well over a thousand dollars. In addition, there will be a weekly drawing for free vaccination package gift certificates, valued at up to $89.
Pet parents can visit ProtectMyPet to find the nearest participating pet store, then stop in to fill out an entry form. No purchase is necessary and the winning pet and its owner does not need to be present on the day of the drawing to win.
"We're very excited about this offer," says Craig Worsham, vice president of marketing at PawsPlus, the parent company of ProtectMyPet clinics. "This is one drawing every dog and cat owner will want to enter," adds Worsham. "Protecting your loved ones from deadly pet diseases and parasites can be an expensive necessity. This is a fun way to draw attention to our low-cost veterinary services, and make several pet parents very happy."
ProtectMyPet Vaccination Clinics are staffed with local, state-licensed veterinarians and a professional crew, offering money-saving vaccine packages, heartworm tests onsite and individual vaccinations beginning at just $10. There is a short video of the clinics on their website.
The vaccination clinics are estimated to save pet owners up to 70 percent off the yearly cost of having their pet vaccinated. Along with having no office-visit fees, they have made it convenient for pet owners to keep their dog and cats healthy and comply with the state laws; Clinics are held on weekends with no appointment necessary.
ProtectMyPet offers a customer support phone line 7 days per week at 888-680-PETS. To learn more, including vaccination prices, clinic times and to view a video of how the clinics work, visit ProtectMyPet.com.
About ProtectMyPet® and PawsPlus®
ProtectMyPet, a subsidiary of Sarasota, FL based PawsPlus, began 16 years ago as a way to bring low-cost, quality veterinary services to pet parents. PawsPlus, a pioneer in affordable, professional pet care, currently runs five full-service animal hospitals and hundreds of vaccination clinics under the brand names VETCO, ProtectMyPet and Vet Wellcare in pet stores throughout the country. To learn more, visit PawsPlus.com.
###