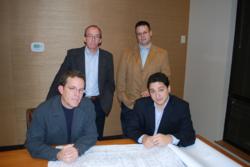 "More banks should consider this route for timely results and maximizing their recovery." - David Waltz, Bryn Mawr Trust
Exton, PA (PRWEB) January 12, 2012
Exton based builder Rouse/Chamberlin, Ltd. announced the complete liquidation of the entire inventory of condos, homes and lots in the Florida market for property owned by Deluca Enterprises, Inc./Deluca Investments, subject of a Wells Fargo action (Civil Action No. 10-1711 US District Court For Eastern District of Pennsylvania).
Since their appointment by a Federal Court in 2010 for property owned by Deluca Enterprises, Inc./Deluca Investments, Rouse Chamberlin, Ltd has met critical project goals, including:

Successfully liquidating all of the inventory of condos, homes and lots in the Florida market
Selling 60 of 65 finished condos and homes in the receivership using retails sales to maximize recovery
Sourcing a variety of qualified candidates and generating multiple bids on all properties
Selling or settling 618 of 792 building lots in three states since initiating liquidation a year ago
The economy has left many banks with large portfolios of non-performing real estate assets. Large numbers of these banks consider a court-approinted receiver as an effective method to liquidate land, lot and building inventories, some of which originated from builder projects. In the case of the Deluca portfolio, the bank solved this challenge by hiring a builder as a receiver.
"Using a resource like Rouse/Chamberlin can offer real value," noted industry veteran David Waltz, Risk Manager for Bryn Mawr Trust. "They offer a deep knowledge of the market and the ability to bring a broad range of contacts and relationships that the bank might not otherwise have. They also bring the technical ability to handle the regulatory issues of residential and commercial real estate development. More banks should consider this route for timely results and maximizing their recovery."
Rouse/Chamberlin, Ltd. partner Jonathan Penders and his team assist lenders by bringing their real estate and construction management savvy and experience to each project. "We've seen just about everything imaginable during this downturn," noted Penders. "Our advanced experience, ongoing market involvement and resources allow us to do the job correctly, faster, and at a lower cost than the bank could do on their own."
Using Rouse/Chamberlin actually expands a banks' capacities. "It's important to note that we don't replace the banks' own expertise," said Penders, "we supplement it." The existing REO/workout bank staff that works with us can handle more volume because they can now focus on the elements which they know and work best, while we handle the others."
Penders described Rouse/Chamberlin's success as the result of a three-pronged approach:
Market Knowledge, Contacts & Relationships, and Technical Expertise. "By providing the necessary expertise in all three areas, we offer faster and more thorough solutions which positively affect the bottom line. It makes overall project management easier for the client."
"Our success as an advisor to lenders, or as a court appointed receiver, has its foundation in our longstanding success in community development," noted Rouse/Chamerlin, Ltd. President David England. "We have built our reputation as a high quality, high value home builder and community developer for over 30 years. That attention to home construction value continues to be a primary focus for our business. Our experience in building communities offers a perfect match for offering these same services to lenders. We are please to provide clients with a service that positively affects their bottom line in asuch a dramatic way."
# # #