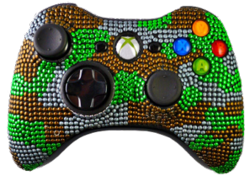 (PRWEB) January 04, 2012
Camouflage Xbox 360 controllers are nothing new, but the new Modzlab line of camo modded controllers is something special. The unique design and attention to detail inherent in the new Modzlab line of camouflage controllers is sure to turn the heads of even the most jaded gamer.
At Modzlab, our goal is to change the very perception of what a camo design should look like. Our exclusive line of camo design Xbox controllers is designed with the gamer in mind. These unique controller combine all the functionality and playability gamers need, all in a sleek package that is far removed from the same old boring camo design.
Unlike most mass market camo modded Xbox 360 controllers, the new line of Modzlab camouflage controllers are not simply painted plastic controllers. Instead, Modzlab uses the latest in fabrication technology to recreate the look and feel of real camo, complete with authentic materials that give players the feeling they are holding a true piece of military hardware.
Modzlab employs a number of specialists with real life experience in camo design, and those specialists were intimately involved in the design of our new line of Xbox controllers. As a result, the new Modzlab line of camo Xbox controllers includes genuine color nailheads for its shell decorations, rather than the painted designs used by lesser competitors. It is this attention to detail that sets Modzlab controllers apart from all the rest, and that is why they are so popular with hardcore gamers from around the world.
The goal of the new Modzlab camo Xbox 360 controllers is to provide gamers with a truly authentic experience when they play their favorite military and first person shooter games. These controllers are designed to not just look authentic but feel authentic as well. When you hold one of the new Modzlab camo Xbox controllers in your hand, you will instantly know you are holding something special, and something quite different.
Modzlab expects this highly anticipated line of camouflage Xbox 360 controllers to not only meet, but exceed, all expectations. This unique line comes in a choice of five exciting colors, with exclusive designs that truly recreate the look and feel of military camo. Each Xbox controller is lovingly handmade, and offered to serious gamers who want a truly authentic gaming experience.
###