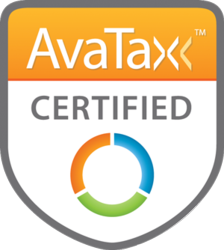 "At OrderDynamics, we constantly seek new and better ways to provide our clients with meaningful tools to run every aspect of their online business," says Michael Benadiba, CEO of OrderDynamics
Toronto, ON (PRWEB) January 13, 2012
Avalara, the leading provider of fully automated, up-to-date sales and use tax compliance solutions, announced last week a strategic partnership with OrderDynamics Corporation, leading provider of On-Demand eCommerce solutions.
AvaTax for OrderDynamics is an easy-to-use sales tax calculation and filing solution that integrates with OrderDynamics to eliminate the hassle of tax compliance processes and reduce the risk of business audits. The web-based service delivers instantaneous sales tax calculations using a centrally-managed, highly accurate calculation engine leveraging up-to-date sales tax rates, rules and jurisdiction boundaries. Coupled with automated filing, remittance and exemption certificate management, AvaTax for OrderDynamics provides unprecedented sales tax functionality to boost business productivity while minimizing audit risk.
"At OrderDynamics, we constantly seek new and better ways to provide our clients with meaningful tools to run every aspect of their online business," says Michael Benadiba, CEO of OrderDynamics Corporation. "Through this integration with Avalara, our clients will be able to easily manage and remain up-to-date with increasingly complicated tax regulations."
"AvaTax is the industry standard for automated sales tax solutions and we are proud to add OrderDynamics Corporation to the list of leading providers who have chosen to incorporate our service into their offerings," said Scott McFarlane, CEO and co-founder of Avalara. "OrderDynamics customers now have the ability to focus on their core business without worrying about spending additional time and resources on calculating and remitting sales tax."
For more information about AvaTax for OrderDynamics, please visit,
http://www.avalara.com/e-commerce/orderdynamics
About OrderDynamics Corporation
OrderDynamics Corporation is a privately owned eCommerce platform service provider for high-growth B2C and B2B businesses. The success of OrderDynamics is highly attributed to its Software-as-a-Service (SaaS) eCommerce model and Dynamic Merchandising concepts which provide superior control and help drive revenue. The OrderDynamics solution caters to multi-channel retail, manufacturing, business-to-business, and complex online retail. OrderDynamics officially launched its On-Demand eCommerce Platform in 2006 after 2 years of research and development.
About Avalara
Headquartered in Bainbridge Island, WA, Avalara is the recognized leader in web-based sales tax solutions, and is transforming the sales and use tax compliance process for businesses of all sizes. Avalara's AvaTax family of products provides end-to-end compliance solutions and is regarded as the fastest, easiest, most accurate and affordable way for companies to address their statutory tax requirements. Avalara is the industry's most trusted provider of sales and use tax automation solutions and is one of America's fastest growing companies earning recognitions such as Microsoft's SaaS Partner of the Year for 2010. For more information, please visit http://www.avalara.com.
To set up an interview with executive Scott McFarlane please contact Yvonne Lunceford, Marketing Manager at Avalara, at 206-826-4900 x1149, or email yvonne.lunceford(at)avalara(dot)com.
###