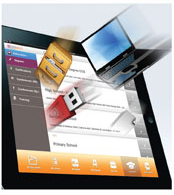 We saw this as a gap in the market that needed to be filled and would carry supreme benefits to the average consumer.
(PRWEB) January 04, 2012
In our modern era, advancements in technology have reigned supreme; where new products are released to the market on a regular basis showcasing their desire to be accepted and nurtured until they become obsolete non-necessities of the past. However, 'data in the cloud' has challenged to cease this trend.
So, what is https://www.myPDV.com?
Recently released is myPDV, a site where access to all ones important data and informational needs are retrieved at the click of a button, anywhere, anytime. It is a solution that organizes the lives of individuals and businesses into one secure suite. Instead of having loads of paper and files stockpiled and spread out of reach across rooms and on portable devices, or day to day informational needs stored separately, with myPDV everything is stowed in one convenient 'invisible' and organized location.
Store, Organize, Access Anywhere, Anytime:
The intention is to combine all documents and files into one complete package and to enable the user to do their work anywhere, says George Ojaimi, Marketing Executive at myPDV. "For years we have seen individuals, families and businesses troubled by the constant scattering of papers throughout the home and office plus multiple storage devices each containing duplicate files. There were also those who required work to be retrieved at various locations where a fundamental aspect of their lives was to organize. We saw this as a gap in the market that needed to be filled and would carry supreme benefits to the average consumer."
Using the 'i' word:
Further making this product unique are the iPhone and iPad applications on offer. myPDV has been structured to enable the entirety of one's online storage to sync directly to an iPad and be organized from there.
Syncing capabilities are widely available on the market; however myPDV is distinctive because of its features. Rania Buissa, Software Development Manager stated, "you can be on public transport, in a park, or even on the other side of the world and by tapping the sync button on the app all your online storage is downloaded to your fingertips. Whilst listening to music on your iPad, you can do your work on the move. It is a highly valued product in a period where time and the need to 'organize your life' are of essence".
Product Inspiration:
In an industry rapidly progressing, one must wonder about the positioning of myPDV. When Mr. Ayash, idea creator was asked about his intentions behind the development, he readily responded, "to remove the need for storage devices and to give the user ability to archive all documents away from plain sight; to organize lives into one complete 'on the move package'. There is no package present which combines your data, information, daily activities and many many more of our features into one suite."
If a moment of thought is placed on this thinking, you will observe that it is genius marketing in its simplest form; basically, getting some of the biggest known issues in present day society; stress, time management, lack of organization and mounds of clutter, and then designing a package that solves those using modern day cloud technology. With a civilization constantly on the move and being fed all forms of paper work, alongside general daily life stresses, such a necessity has been long awaited.
The Final 2 Cents:
Remaining to be seen is the success. In a world requiring such a solution, it would be difficult to see us ignore this innovation. Only a recent development, one must observe the potential demand it attracts. After all, as a humanity that craves these modern day advancements, why not grab onto something like https://www.myPDV.com, which is redefining data and informational access and ceasing the trend of the 'non-necessities of the past' statement?
# # #