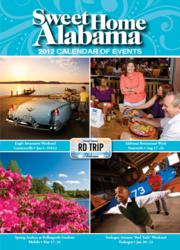 The top 10 events offer a wide range of activities across the state along with some award-winning food. They showcase a taste of what Alabama has to offer travelers and tourists.
Montgomery, Ala. (PRWEB) January 02, 2012
A statewide restaurant week spotlighting the Year of Alabama Food, two weekends of racing at Barber Motorsports Park and Talladega Superspeedway, a 40th celebration of holiday lights on the river in Demopolis and a movie honoring the Tuskegee Airmen are among the top 10 events in the 2012 Calendar of Events released today by the Alabama Tourism Department.
Nearly 400 events focusing on food take place in Alabama in 2012 during tourism's Year of Food campaign. Four of top 10 events celebrate food — Alabama Restaurant Week Aug. 17-26, the Red Diamond Restaurant Tour in Anniston Apr. 21, the National Shrimp Festival in Gulf Shores Oct. 11-14, and an expanded Break 'N Bread food event in Birmingham on Oct. 14. Food events can be easily identified by a green tomato which is the official logo of the Year of Alabama Food. The tourism department will officially launch the Year of Alabama Food on January 27, in Birmingham.
"The top 10 events offer a wide range of activities across the state along with some award-winning food," said director, Lee Sentell. "They showcase a taste of what Alabama has to offer travelers and tourists."
More than 1,400 events are listed in the 96-page publication and include top events for each month. The blue cover of the calendar of events features four photos: a 1953 blue Cadillac parked on a pier at Lake Guntersville; azaleas in bloom at Bellingrath Gardens in Mobile; food from Birmingham's Restaurant Week, and the Tuskegee Airmen Museum.
The tourism department will also release a new "100 Dishes to Eat in Alabama Before You Die" brochure and will launch the first statewide BBQ Trail during Memorial Day weekend. The year of food was first celebrated in tourism's 2005 campaign. The popularity of the year was crucial in the decision to bring it back for 2012.
Southern Living magazine will release its list of the "Top 10 Tastiest Towns" on Dec. 23 that includes Birmingham, Alabama. The magazine will let readers decide the "Tastiest Town in the South" from the top 10 list with online voting Dec. 23 – Jan. 26 at http://www.southernliving.com/tasty. Southern Living will profile each of the towns and reveal the "Tastiest Town in the South" in the April 2012 issue.
Travelers can pick up a copy of the events calendar at the eight welcome centers across the state, by calling 334.242.4169 or via the website http://www.alabama.travel.
Below are the Top 10 Events of 2012 that are listed in the tourism department's annual calendar of events:
1. "Red Tails" Movie Weekend, Tuskegee, Jan 20-22
Tuskegee Airmen National Historic Site
Visitors can experience special tours of Hangar One at the Tuskegee Airmen National Historic Site celebrating the release of George Lucas' film "Red Tails." The film honors the famed Tuskegee Airmen who endured racial segregation and rose to prominence as one of the most decorated fighter groups of World War II. Tour times are: 9, 10 & 11 a.m. & 1, 2 & 3 p.m. The site is open to the public daily from 9 a.m.-4:30 p.m., 334.727.3200, http://www.nps.gov/tuai
2. Bicentennial of the War of 1812, Tensaw, Mar 17-18
Historic Fort Mims, 12 mi. North of Stockton off Hwy. 59/CR 80
Learn about the early history of Alabama before it was a state. Experience the firing of Flintlock rifles and black powder muskets during a live skirmish. Observe living history, including an 1812 militia; hear informative speakers, view on-site archeological excavations, enjoy a horse-drawn wagon show, and a dinner theatre production (reservations required). Sat., 9 a.m.-2 p.m. speakers from 11 a.m.-12:30 p.m., skirmish at 2 p.m., theatre production at 3:30 p.m.; Sun., 9 a.m.-2 p.m. Bring a chair or blanket; concessions available. 251.937.5665 or 251.937.5710, http://www.fortmims.org.
3. Honda Indy Grand Prix of Alabama, Birmingham, Mar 30-Apr 1
Barber Motorsports Park
Watch racing champions in the Honda Indy Grand Prix and the Grand-Am Rolex Porsche 250 races at Barber Motorsports Park during an action packed weekend. Thousands of race fans will gather for one of the country's most spectacular motorsports events. Buy your tickets online or call for additional information. 205.298.9040 or 205.699.7275, http://www.barbermotorsports.com
4. Red Diamond Restaurant Tour, Anniston, Apr 21
Anniston Downtown District
As part of the Noble Street Festival, the Red Diamond Restaurant Tour features 12 of the area's restaurants serving their finest dishes from tents along Noble Street. 11 a.m.-8 p.m. 256.236.6346, http://www.noblestreetfestival.com.
5. Aaron's Dream Weekend, Talladega, May 4-6
Talladega Superspeedway
The weekend triple-header features the ARCA Racing Series, the NASCAR Nationwide Series Aaron's 312 and the NASCAR Sprint Cup Series Aaron's 499. Call 877.GO2-DEGA for tickets or visit http://www.talladegasuperspeedway.com.
6. W.C. Handy Music Festival, Florence, Jul 20-28
Various locations across Florence
Families will enjoy this weeklong tribute to the "Father of the Blues," W.C. Handy. Blues, Jazz and Gospel music can be heard throughout the Shoals at restaurants, theatres, malls, parks and other locations. The week will include more than 100 events, perfect for music lovers and family entertainment. 256.766.7642, http://www.wchandymusicfestival.org.
7. Alabama Restaurant Week, Statewide, Aug 17-26
Various restaurants statewide
Restaurants around the state, including many featured in tourism's brochure, "l00 dishes to eat in Alabama before you die" invite diners to experience the culinary scene of Sweet Home Alabama. Participating restaurants will offer special fixed-priced menus for lunch and/or dinner. 334.242.4169, http://www.alabama.travel.
8. Break 'N Bread Food Festival, Birmingham, Oct 14
Pepper Place, Railroad Park
Savor a Sunday afternoon feast with a newly expanded Break 'N Bread event hosted by the Birmingham Originals, an organization of locally-owned restaurateurs. The festival allows participants to sample some of the finest food in town. Proceeds benefit culinary scholarships as well as promote dining at locally-owned restaurants. General admission tickets are $25 in advance and $30 at the door. VIP tickets are $75 in advance and $80 at the door. 205.383.1610, http://www.birminghamoriginals.org.
9. National Shrimp Festival, Gulf Shores, Oct 11-14
Gulf Shores Public Beach area
The festival is one of the nation's premier outdoor events featuring more than 300 vendors. It is held the second full weekend of October on the white sand beaches of Gulf Shores. Vendors offer fine arts, crafts and fresh Gulf shrimp. Thurs.-Sat. 10 a.m. – 10 p.m., Sun. 10 a.m. - 5p.m., 251.968.6091, http://www.nationalshrimpfestival.com.
10. Christmas on the River, 40th Annual, Demopolis, Nov 29-Dec 2
Downtown Demopolis
Enjoy tours of historical homes, the Alabama State BBQ Cook-Off on Fri. night, a "Jingle Bell Run," day parade on Sat., along with the Fair in the Square featuring arts, crafts and food; and the famous night parade with handmade lit floats that parade down the Tombigbee. The night ends with a fireworks show. Fair in the Square: Sat., 7:30 a.m.-3:30 p.m., nautical parade 6:30-8:30 p.m. 334.289.0270, http://www.christmasontheriver.com.
Contact:
Edith Parten, 334-242-4537
Edith.parten(at)tourism.alabama(dot)gov
###