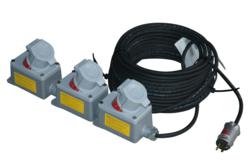 We offer a wide range of explosion proof extension cords with different lengths and connectors in stock; we also build custom configurations for customers on demand
Kemp, Texas (PRWEB) January 11, 2012
The Magnalight EPEXC-3X-100 explosion proof 3 outlet extension cord is designed to allow operators to connect up to three devices to one power source while providing approved explosion proof protection in Class 1 Division 1 and 2 locations. Reaching a total of one hundred feet in length, this chemical and abrasion resistant cord is comprised of heavy duty 14/3 SOOW explosion proof cord mated with three explosion proof aluminum receptacles and a single standard T style explosion proof plug. The explosion proof receptacles on this cord are of a 3 Pole 2 Wire configuration, 20 amp rated, and will accept standard non explosion proof NEMA 5-20R or 6-20R plugs, although explosion proof plugs must be used to maintain explosion proof compliance in hazardous locations. The receptacles on this cord are a twist lock design, requiring the operator to insert the plug and twist it into position until it locks in order to activate the connection. This twist lock configuration provides a secure connection and helps to prevent inadvertent sparks before the connection is made. This extension cord also comes with an extra explosion proof plug for installation on existing devices, which provides operators with the assurance their equipment will connect and operate with this unit. These cords are popularly used with explosion proof lighting and allow multiple fixtures to be connected with a minimum of excess cord left that could pose an obstacle or safety hazard. This three receptacle extension cord is approved for Class 1 Division 1 and 2 and Class 2 Division 1 hazardous locations and is a durable and safe solution to the problem of providing adequate power sources in areas with limited connections.
"We offer a wide range of explosion proof extension cords with different lengths and connectors in stock; we also build custom configurations for customers on demand," said Rob Bresnahan with
Larson Electronics' Magnalight.com. "We commonly build these cords for our customers to accompany our explosion proof lights and/or our power distribution systems."
Larson Electronics' Magnalight.com carries an extensive line of explosion proof cords, hazardous location receptacles and plugs, explosion proof switches, and explosion proof equipment accessories. You can view Larson Electronics' Magnalight line of hazardous location equipment at Magnalight.com. Magnalight can be reached directly by calling 1-800-369-6671 or 1-214-616-6180 for international inquiries.
###