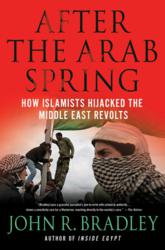 AFTER THE ARAB SPRING is indispensable to understanding why the Middle East uprisings aren't going where we want. John R. Bradley has a better pulse on the reality than anyone.
-- ROBERT BAER, former CIA operative.
New York, NY (PRWEB) January 04, 2012
The author of the critically acclaimed book Inside Egypt: The Land of the Pharaohs on the Brink of a Revolution (2008), which boldly predicted the Cairo uprising against Hosni Mubarak, is back with another stark warning about the Middle East.
In After the Arab Spring: How Islamists Hijacked the Middle East Revolts, published today by Palgrave Macmillan, John R. Bradley offers a sweeping look at how liberal, progressive voices that first rallied the Arab masses were drowned out by the slogans of the better-organized and more popular Islamists.
Vivid, accessible, and timely, After the Arab Spring highlights the dramatic spread of Saudi-funded Wahhabi ideology, inter-tribal rivalries, and Sunni-Shia divisions. Bradley also reports on how secularists came under violent attack in Tunisia and Islamists took control of the Egyptian streets. He illuminates ancient sectarian strife shaking Bahrain, fierce civil wars that pitched tribe against tribe in Libya and Yemen, and ethnic divisions threatening to tear apart Syria and Iran.
Robert Baer, a former CIA agent and the inspiration for the movie Syriana, has called After the Arab Spring "indispensable," adding: "Bradley has a better pulse on the reality than anyone." Writing in the Financial Times, Max Hastings has hailed the book as a "savage indictment of alleged western naivety about the significance of the Middle East revolutions."
Bradley is also the author of the Foreign Affairs bestseller Saudi Arabia Exposed (2005) and Behind the Veil of Vice (2010). In After the Arab Spring he again breaks with conventional wisdom to offer a wake-up call about the empowerment of Islamism throughout the Middle East.
# # #