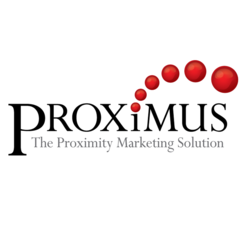 "…we feel it is important to deliver these resources to educate those interested in adapting their marketing strategy to technological changes..."
Atlanta, GA (PRWEB) January 03, 2012
Proximus Mobility, a location-based proximity marketing software company, has revamped its website. Proximusmobility.com has an enhanced look and navigation that meets the needs of various viewers as it offers the public educational material on current and future marketing trends as well as use cases for clients. It's straightforward design and simplicity allows the audience to move around quickly and find the information they seek.
The site is fashioned around three main focus areas; customer education, Proximus Mobility services and client Campaign Manager. The first website section's goal is to create awareness for location-based proximity marketing, as it is a new concept to many. As part of its education efforts, Proximus Mobility is releasing a white paper titled "The Growth of Location-Based Services and The Power of Proximity Marketing." This white paper is the first in a series of resources and provides practical insight into the ever-evolving marketing world. The content, offering solid facts and figures, is fresh and relevant as it is written from a consumer connection perspective. Laced with supporting statistics, this commanding report speaks to the explosive growth and need for mobile marketing solutions, how location-based mobile is effective and engaging for consumers, and the advantages of proximity marketing that will empower any brand. The white paper is eye opening and a powerful tool to anyone striving to understand the weight of current marketing strategies and tailor approaches to forecasted consumer trends.
The Services section dives into the highlights of Proximus' technology, some noteworthy touchpoints include the measurable campaigns and unparalleled data reports. It also features an informative three-minute video explaining the Proximus Mobility solution and how relevant content is delivered to consumers while they are located at the point of sale, the ability location-based proximity marketing solution has to create loyal customers while simultaneously increasing sales margins, and capturing real-time data on customer shopping behavior, dwell times and traffic patterns.
Possibly the most paramount inclusion on the site is the Campaign Manager section, where clients can seamlessly create, update and monitor their proximity marketing campaigns, review data and pull both detailed and executive level reports. These reports provide in-depth analytics on customer phones, campaign effectiveness, engagement levels, customer shopping behavior insights and more.
"We are very pleased with the update [to the website] and happy to have achieved another goal." stated David Rippetoe, Chief Technology Officer of Proximus Mobility. Rippetoe continued to say, "The objectives of Proximus Mobility are paralleled in the website. As we provide current and prospective clients information on the direction of mobile marketing, specifically proximity marketing, the website gives us another platform to do so. As a leader in the location-based proximity marketing space, we feel it is important to deliver these resources to educate those interested in adapting their marketing strategy to technological changes and hope they choose to do so through Proximus Mobility's unique solution."
About Proximus Mobility:
Proximus Mobility helps clients drive incremental revenue through hyper local, relevant and customizable proximity marketing solutions. A location based proximity marketing software company, Proximus Mobility places marketers in trusted point of purchase environments. Regardless of phone type or carrier, Proximus Mobility enables brands to push engaging rich content or promotional offers to customers' mobile phones, when they are most receptive and poised to take action. As there is no app to download, consumers seamlessly receive the client's message, which can be easily shared via social networks. Proximus Mobility assists brands in growing profitability, gathering customer data, increasing brand loyalty and empowers clients with 24/7 access to real-time campaign analytics. Proximus Mobility, headquartered in Atlanta, GA, is a privately held company. For more information, visit http://www.proximusmobility.com.
###