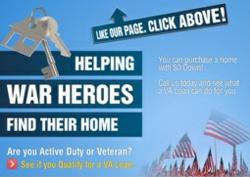 the beginning of location specific websites will help veterans relocate and buy homes since they are especially geared toward the troops returning back to the states, like those from Iraq.(December 2011)
Houston, Waco, Texas, St. Petersburg, Florida, California, United States (PRWEB) January 01, 2012
VA Home Loans in Texas are one of the fastest growing industries in the entire state's Real Estate market in 2011 due to it's flourishing employment opportunies and easy access to VA Loans, and it's only going to increase more in the coming 2012 year. One perfect event revealing this fast growing population and economy is from the news on October 21, 2011 from President Obama's announcement of the troops deployed and stationed in Iraq who would finally return home to the states, having all the thousands of remaining men in women return back to the United States by December 31, 2011. As a domino effect, the many men and woman returning home this year and next year may already be eligible to receive their VA Benefits, which in turn, this means those eligible can invest and profit from purchasing a home to own with VA Home Loans. Exciting news this big alerted the professionals like Security America Mortgage, Inc. began their unique preparation to welcome the heroes home by jump starting a new sponsorship of providing veterans (young and old) with the lowest interest rates on VA Home and VA Refinance Loans.
With this well developed program in place, the CEO of Security America Mortgage, Inc., Garrett Puckett, also set out for plans to incorporate an additional strategy to help transition military members smoothly into the states once they get back to life America. Puckett explained that, "the beginning of location specific websites will help veterans relocate and buy homes since they are especially geared toward the troops returning back to the states, like those from Iraq."(2011, December). In prodiving a sponsorship program like this, the hope to help military service men and women find a home straight from coming back home from war will ease and excite new spirits in the homeland and hearts of many. Advocate companies like Security America Mortgage, Inc. - who specialize in VA Home Loans are eager to take ambitious steps into making the dream of owning Real Estate a reality, and all these dreams stem first from getting a VA Loan in the great state of Texas.
The most important thing a veteran home buyer needs to know are the VA Loan Benefits available to them for VA Loans and the advantages of purchasing a home by financing using a VA Home Loan.
Top 10 VA Home Loan Benefits-Offers thru 2012 by sponsors-Security America Mortgage, Inc:
1-VA Home Loans - Require $0 Down Payment on Mortgage
2-VA Home Loans - Have No Closing Costs
3-VA Home Loans - Require that all non-allowable Closing Costs are Waived by the seller
4-VA Home Loans - Have the VA do the work for you for obtaining a Certificate of Reasonable Value (CRV) to the Buyer for FREE
5-VA Home Loans - Have a VA inspector perform an appraisal at No Cost to the buyer
6-VA Home Loans - Allow VA Streamline Refinance Loans to lower monthly mortgage payments
7-VA Home Loans - Have no pre-payment penalty fees
8-VA Home Loans - Have origination fees issued by lenders called "Points Capped"-meaning lenders cannot charge too much for services rendered.
9-VA Home Loans - Are Lenient on Credit Scoring, Credit Approvals, and Credit Requirements
10-VA Home Loans - Have Lower Interest Rates than Conventional Loans and FHA Loans
Since the population of veterans is growing for fast, the importance of making VA Loan information more available with more attentive assistance from companies like Security America Mortgage, Inc. who personalize the experience when it comes to working with approving military members for VA loans. The overall goal for the company is to reach all veterans who need a great and other VA benefits or investment opportunities. By launching multi-city level and area location specific websites like the one for VA Houston Loans, Security America Mortgage hope they will achieve their business and military benchmark goals for the heroes who served this great nation with honor.
The first city location website was launched in Houston, Texas in mid December, and it highlighted all of the specialized services provided by Security America Mortgage, Inc. and their VA Home Loan Experts. Having everything a veteran or military servicemember who is coming home from overseas will need in order to transition from living in the barracks to settling into the civilian life is the ultimate achievement Puckett explained that his company could make, saving thousands of families and servicemembers as much money as possible. Puckett's main ambition for the company, as always, is to save as much money for veterans and active-duty military personnel as he and his company's VA Loan Specialists can, all by using the best resources at their disposal.
As Security America Mortgage continues to thrive in advocating their willingness to support military members by offering the best VA loan rates and Real Estate services in the country, the homeowners market for the veterans returning home will soon be the greatest playing field in military investment opportunities. The virtue of owning a home in America will soon come to those military members who jump on the opportunities offered to them with the affordable VA home loans available through 2012.
To jump start you phenominal home buying experience, join the VA loan Mission with Security America Mortgage, Inc., and Contact a VA Home Loan Specialist now to Get Started on your fastest way to owning a home in the United States of America today!
###