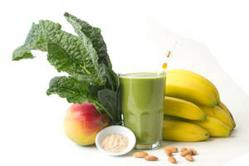 We want to inspire more people to invest in their health and learn how to make delicious health-promoting raw vegan recipes
(PRWEB) January 03, 2012
Living Light Culinary Institute, a gourmet raw food school on the northern coast of California, is taking its flagship introductory class, FUNdamentals of Raw Living Foods on the road. The one-day intensive course, slated for January 21 in Santa Monica, CA, and January 28 in San Diego, offers a wide variety of easy-to-prepare raw vegan recipes. More than a dozen gourmet raw recipes will be demonstrated, featuring appetizers, fruit smoothies, soups, green juices, salad dressings, entrées, patés, sandwich wraps, nut milks, non-dairy cheeses, crackers, and dehydrated treats. Tuition for the course, which takes place from 9:00 AM – 5:30 PM is $375, and includes an abundant organic raw vegan buffet lunch. For information about Fundamentals of Raw Living Foods and other Living Light Culinary Institute classes, or to register, call 707-964-2420 or visit RawFoodChef.com
The class also offers two popular dessert demos: Black Forest Cherry Brownies and Carrot Apple Kuchen. Students learn sprouting and kitchen gardening, and how to make fermented foods like "live" sauerkraut. Talks offered during the one day class also include "The Secret of Great Dressings, Marinades, and Sauces," and "Quick and Easy Meal Prep," teaching students how to create simple menus using essential equipment and supplies used in a raw food kitchen. The Introduction to Basic Knife Skills demo helps attendees learn how to use the right kitchen knife for every task.
The class is open to everyone, from complete novice to professional chef. Since it was first developed by Living Light founder and director Cherie Soria in 1998, thousands of people from over fifty countries on six continents have taken Fundamentals of Raw Living Foods. Certified Living Light chef instructors Alicia Ojeda and Brenda Hinton will teach both of the classes.
A full buffet lunch of organic raw vegan foods is included, and most of the recipe demos offer samples. Tuition includes all course materials except the required text, Angel Foods, Healthy Recipes for Heavenly Bodies, by Cherie Soria.
Living Light Culinary Institute offers a comprehensive professional curriculum in gourmet raw vegan food preparation. Students learn a progressively complex set of culinary skills, from mastering knife techniques and setting up a healthy kitchen, to charting a menu, catering an event, and learning how to do professional culinary demos. Recipe development, pastry arts, and raw nutritional science are also included in the school curriculum.
Living Light International has four eco-friendly businesses on the Mendocino coast of Northern California: Living Light Culinary Institute, Living Light Café, Living Light Marketplace, and Living Light Inn.Visit http://www.RawFoodChef.com
###