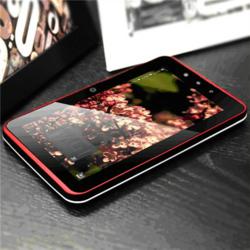 "We are really excited about TurboTab Z launch. TurboTab Z is already getting tremendous feedback from customers for it's unique design and strong performances of new Android 2.3. We had increase our initial manufacturing to meet the demand. It's price
Newport Beach, CA (PRWEB) January 09, 2012
Idolian.com is pleased to announce the new 7 inch Android tablet PC , TurboTab Z. Idolian is a tablet PC manufacturer and distributor with its offices in Newport Beach, CA, Arkansas and South Korea. Idolian's vision is to produce reliable Tablet PC, priced between $100-$299 that any individual or small business can afford.
TurboTab Z has a sleek new style with distinctive red color rim around its face. It runs on Cortex A9 Chipset, 1 GHz CPU, 512MB, 7" Capacitive 5 Point Touch Screen, Front Facing Camera, 360 G-Sensor, HDMI output on heavily modified Android 2.3 OS. It has very cool animations and tools that make operation a lot easier. TurboTab Z offers long range WI-FI connectivity and a long lasting battery life (4-5 hours), Android Google Market, Flash Player. Idolian is working to get TurboTab Z to get upgraded to Android 4.0 in the near future.
TurboTab Z is available to pre-order for $169 at idolian.com. Idolian.com offers "Free UPS shipping both ways," for easy buying decisions for customers. For limited time, all pre-ordered TurboTab Z will be shipped with free 8GB Micro SD card. TurboTab Z will be shipped from January 24th, 2012.
"We are really excited about TurboTab Z launch. TurboTab Z is already getting tremendous feedback from customers for it's unique design and strong performances of new Android 2.3. We had to increase our initial productions to meet the high demand. Its price of $169 is unbeatable." says, Debbie Kim, President.
Idolian is working on TurboTab Z upgrade to Android 4.0. TurboTab Z shares the same housing as Zenithink C7 1 but built with Idolian's strict quality control methods with better components.
Thanks to its established retail distribution, Idolian tablet PC's will be widely available at Amazon, Sears, eBay & cellular locations throughout the USA and South Korea.
All of Idolian's Tablet PC's come with a 1 year warranty that is serviced in the USA and offers extended warranties and protection plans for sale only on idolian.com.
About Idolian.com: Idolian.com is division of Idolian Mobile, Inc, an international telecommunication company that terminates calls throughout the world. Idolian Mobile Inc. is headquartered in Newport Beach, California and has two branch offices in Arkansas and Seoul Korea.
Like its slogan "Tablets for Everyone," Idolian.com's mission is to become a major brand for Android Tablet market that everyone can afford.
# # #