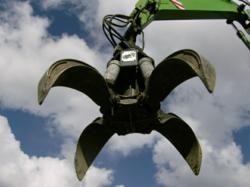 "Since scrap handling is so hard on a grapple, the protection provided to the hoses makes the Rotobec grapple ideal for scrap handling". Scott Mendenhall, Bare Metals, TN
(PRWEB) January 16, 2012
Each Orange Peel Grapple is equipped with a Rotobec continuous rotation and is available with a knock around version. The rotation pinion is supported by bearings on both the bottom and top of the shaft. This design ensures long life in today's challenging material environments.
OTHER FEATURES AND BENEFITS of the OP series scrap grapple

Interlocked head structure
- Allows for increased rigidity and crack prevention
Steel hose guards
Cylinder hose routing
Seamless cylindrical steel head assembly
- Provides excellent durability and ensures an ultra long service life
High performance cylinders
- Bolt on heads, over-sized wall barrels, sealed spiral cut bronze/aluminum bushings
- High-pressure capability
Cylinder guards with integrated stops.
Reinforced jaw/tine pins
Reinforced jaws/tines
-Shim adjusted grapple tip wear compensation
Call or email us for more technical information.
Mark Shukla
Director of Sales and Marketing
markshukla(at)gmail(dot)com
424.653.9019
###