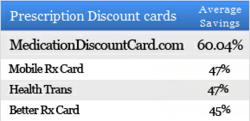 Medication Discount Card Provides an Average Savings of 60.4% on All Prescription Drugs.
Ventnor, NJ (PRWEB) January 10, 2012
Medicationdiscountcard.com (MDC) goes on-line this week with its new Prescription Discount Card. MDC's free pharmacy card provides consumers deep discounts and rebates on a wide range of prescription medications and may offer lower out-of-pocket costs than even some insurance plans.
The card, available instantly on the company's website, not only provides users with deep discounts on prescription generic and brand name drugs, but also offers an easy-to-use prescription rebate payment program.
As prescription drug prices have soared in recent years, dozens of medication discount cards have cropped up, offering to lower consumer drug costs for individuals without insurance. Many charge user fees or offer limited discounts exclusively on higher-priced brand name drugs. Some even require users to purchase additional benefits in order to access advertised savings.
Medicationdiscountcard.com (MDC) charges no fees, requires no medical exams and covers almost all FDA approved prescription drugs. MDC's free prescription savings card can cut 10% to 75% off all prescriptions while earning users cash rebates on select brand name drugs. The card can be downloaded in seconds and printed directly on your computer. Everyone qualifies and the card is activated as soon as it is printed.
The card is recognized at any of 63,000 neighborhood drug stores or at pharmacy chains including Walgreens, CVS, Walmart and Rite-Aid. The card is absolutely free, no additional purchase is necessary and it never expires.
Once printed the card is simply carried to a participating neighborhood pharmacy and presented at check out. Once the pharmacist enters the card number into their records, users receive the current lowest discount price on qualifying prescriptions.
MDC's prescription discount card is not insurance. Consumers who have insurance may use the card with their current prescription drug insurance. In many cases medications will cost less through the Prescription Discount Card than insurance co-pays.
The Prescription Discount Card gives consumers an average savings of 60.4% on prescription drug purchases – over 13% higher than the nearest competing Rx discount card. In addition, MDC's Prescription Discount Card automatically tracks rebates for select brand name prescription medications purchased by members. Members don't have to keep receipts, mail in rebate cards or call 800 numbers to receive rebates. Instead, MDC issues each member a MasterCard debit card. As the consumer earns rebates, MDC tracks them automatically and loads the cash onto the card. The card is good anywhere MasterCard is accepted.
About the Company:
To obtain the MDC Prescription Discount card, interested consumers can visit http://medicationdiscountcard.com, and print a card in seconds right at their desk. Alternatively they may contact MDC and receive a physical card mailed to them at no charge. The website offers a Member Pharmacy Locator and Prescription Savings Calculator to estimate potential savings.
# # #