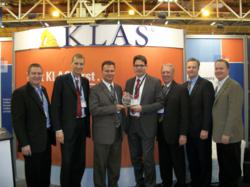 To have our PillPick robot be recognized by a collection of our peers as being a Market Segment Leader in pharmacy automation is truly an honor.
Denver, CO (PRWEB) January 17, 2012
Swisslog, a leading provider of automated materials transport and medication management solutions for hospitals, today announced that it has won a prestigious KLAS award as the Market Segment Leader for Pharmacy Automation.
KLAS, a leading independent healthcare research firm, produces an annual report entitled, "Top 20 Best in KLAS Awards." For 2011, the firm named Swisslog's PillPick as the Market Segment Leader in the pharmacy automation robot category. KLAS presented the award to Swisslog at ASHP Midyear 2011.
"Since 1998, KLAS has been committed to helping healthcare providers make decisions based on candid peer feedback," said KLAS President Adam Gale. "Best in KLAS rankings mark those vendors who best keep their promises in their market segments by offering a combination of superior products, strong service and high customer value. We hope these ratings continue to help providers find transparency from their vendors in making purchasing decisions."
PillPick automatically bar codes, packages, stores and dispenses individual doses of medications. PillPick can hold more than 53,000 unit doses in its DrugNest. When requested, the unit doses are automatically assembled onto a thin plastic ring called a PickRing. The PickRing contains all the medications for a patient for a 24-hour period. It is barcoded so that it can be scanned bedside for verification before administration.
"This award carries special significance because the ratings came directly from our customers," said Ben Hinnen, vice president of Swisslog's Automated Drug Management Systems (ADMS) business unit. "To have our PillPick robot be recognized by a collection of our peers as being a Market Segment Leader in pharmacy automation is truly an honor."
Swisslog Healthcare Solutions is the leading supplier of logistics automation solutions for healthcare facilities. Swisslog has installed automated materials transport and medication management systems in more than 3,000 hospitals around the world, including more than 2,000 in North America. Swisslog offers total systems design, manufacturing, installation and customer support providing a complete supply-chain management approach to logistics challenges of hospitals. The North American division of Swisslog Healthcare Solutions is based in Denver, Colo.
About Swisslog
Swisslog is a global provider of integrated logistics solutions for warehouses, distribution centers and hospitals. Its comprehensive services portfolio ranges from building complex warehouses and distribution centers to implementing Swisslog's own software to intra-company logistics solutions for hospitals.
Swisslog's solutions optimize customers' production, logistics and distribution processes in order to increase flexibility, responsiveness and quality of service while minimizing logistics costs. With years of experience in the development and implementation of integrated logistics solutions, Swisslog provides the expertise that customers in more than 50 countries rely on.
Headquartered in Buchs/Aarau, Switzerland, Swisslog currently employs over 2,000 staff in about 20 countries worldwide. The group's parent company, Swisslog Holding AG, is listed on the SIX Swiss Exchange (security number: 1232462, Telekurs: SLOG, Reuters: SLOG.S). For more information, visit http://www.swisslog.com.
###