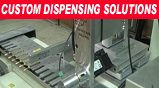 ...our products and equipment reduce production costs and time...
Sanford, FL (PRWEB) January 03, 2012
Hernon Manufacturing, the innovator in adhesive and sealing technologies, has recently confirmed receipt of a signed contract order for its environmental sealing and UV curing machine for a defense contractor.
The dispensing machine will be custom built to meet the assembly line specifications for a leading defense contractor in the United States. The equipment is expected to be built, installed and operational for the customer's production line by mid 2012.
"Hernon Manufacturing has established itself as a leader in the adhesives and equipment manufacturing sectors," said Harry Arnon, CEO of Hernon Manufacturing. "Our customers report that our products and equipment reduce production costs and time, while increasing the accuracy and quality of the finished products."
The custom dispensing machines are capable of sealing various components on a single machine. In 15 minutes or less, the conveyor belt can be easily changed to accommodate the different parts. In a simultaneous process, the Auto Sealer dispenses sealant, performs vision systems inspections and UV curing. More than 200 pieces can be processed per minute.
"Working closely with our customer, we were able to identify the unique requirements and constraints of their production process to develop and manufacture a custom dispensing and curing system," explains Arnon.
Within the last three months, Hernon has received over one million dollars in contracts to deliver high speed application and inspection equipment to some of the world's largest defense contractors.
"Hernon is a world innovator offering total solutions, including the chemistry of its products and the engineering of its dispensing equipment," add Arnon. "We are capable of meeting any requirements from small to large automated systems."
In addition to custom and standard dispensing and curing equipment, Hernon Manufacturing produces and distributes an extensive line of sealants for military and commercial use. Hernon produces eight Mil-Spec qualified sealants and is an ISO-9001: 2008 registered company.
About Hernon Manufacturing
Hernon Manufacturing has been committed to delivering world class adhesive, sealant, and impregnation solutions along with precision dispensing systems for nearly four decades. A long-time member of Central Florida's industrial manufacturing community, Hernon offers strong brands and technologies, all made in the United States, for a diverse range of industries including: Energy/Power Generation, Medical, Electronics, Electrical, Automotive, Appliances, Sporting Goods, Ammunition, Communications, Aerospace, Aviation, High Tech Audio, Defense, Fire Suppression, Transportation, and Marine. Hernon Manufacturing is proud to be an ISO-9001 registered company whose products meet or exceed Mil-Specs. Hernon Manufacturing has been recognized as a top company in Orlando and is listed in the Orlando Business Journal's 2011 Book of Lists.
Media Contact:
Edgardo Rodriquez
Director of Sales and Marketing
(407) 322-4000 ext. 314
# # #