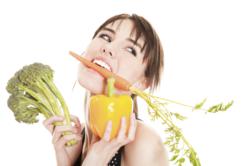 Our ability to detoxify efficiently can be helped by super foods rich in antioxidants
Los Angeles, CA (PRWEB) January 11, 2012
Detoxification isn't just the latest diet fad; it is the natural and essential process that takes place within our bodies on a continual basis.  It is the body's way of ridding itself of toxins which build up in tissues and fat cells as a result of normal metabolic activity and the stresses of daily life.  Supplements, such as Longevity Herbs' new Wellness Renew Plus PH™, are specially formulated to assist the body in carrying out this necessary detoxification task.
 
Toxins create extra strain on the body as it struggles to rid itself of these unwanted byproducts. And the free radicals which make up part of these toxins are linked by research to various degenerative conditions as well as to premature ageing.
While the body's ability to detoxify depends largely on the nutrients we take in and the environment around us, our ability to detoxify efficiently can be helped by super foods rich in antioxidants and other essential nutrients known to bring about a healthier detox experience. Diets high in natural fiber, for instance, can help eliminate toxins via natural bowel movements and increased water flow.
Many cultures have detoxify therapies and native diets that specifically help the body to detoxify itself. This may involve foods which have a strong eliminating effect such as those with excess fiber or natural diuretics—or even induced sweating through exercise or saunas.
Adding to your diet foods which help rid the body of free radicals and other toxins, while eliminating foods which actually contribute to excess toxins, is prudent. Refined foods, hydrogenated and partially hydrogenated oils, sugars such as corn syrup and others high in fructose, or enriched white flour—all contain or tend to create large amounts of free radicals during digestion.
You should increase your consumption of foods known to contain helpful amounts of antioxidants and other essential nutrients acting as catalysts to a healthier detox process. Blueberries, for instance, are loaded with phytonutrients—compounds which aid detoxification. Broccoli is not only a great source of folate, it also contains these same phytonutrients and is an excellent source of vitamin C.
Green tea extracts offer fine antioxidant protection for the human body. The polyphenols and high concentrations of catechins in green tea extracts are much more effective than black tea in neutralizing and preventing the damage free radicals can do. Wellness Renew Plus PH™ utilizes high concentrations of these green catechins, along with other proven antioxidants that help your body detox efficiently and maintain its healthy balance.
To learn more about Longevity Herbs or their new Wellness Renew Plus PH supplement product visit their website at LongevityHerbs.com or phone (888) 245-0718
###