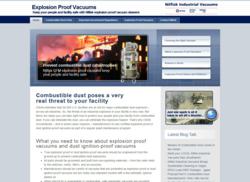 The risk of a dust explosion increases when low humidity levels, like those seen in winter months, make dust easy to disperse and ignite.
Morgantown, PA (PRWEB) January 11, 2012
Nilfisk Industrial Vacuums is reminding manufacturers that snow and ice are not the only elements that will be of worry this winter as the season of combustible dust incidents also approaches. The risk of a dust explosion increases when low humidity levels, like those seen in winter months, make dust easy to disperse and ignite. In fact, industrial accident investigations by the U.S. Chemical Safety Board found that seven out of eight fatal combustible dust explosions from 1995 to 2009 occurred during cold winter months when these weather conditions were most prominent.
Manufacturers are currently monitored through OSHA's Combustible Dust National Emphasis Program (NEP), which offers guidelines and recommendations for decreasing the risk of combustible dust fires and explosions. Specifically, OSHA recommends that a properly-equipped industrial vacuum cleaner be a part of regular plant sanitation in order to keep dust accumulations under 1/32" (the thickness of a paperclip) on floors, walls, machinery, and overhead areas; or face hefty fines. Compared to traditional cleaning methods like sweeping and blowing down with compressed air, explosion-proof vacuums safely collect combustible dust and particulate without generating dust clouds or deadly sparks.
Nilfisk Industrial Vacuums, a manufacturer of explosion-proof vacuums, understands that the right vacuum cleaner is an integral part of the housekeeping equation and continues to help plant supervisors choose the correct solution for their facilities.
"Through facility assessments, onsite demos, and training, Nilfisk is hoping to educate the market that not all vacuums are created equal," says Paul Miller, Nilfisk Vice President and General Manager. "For starters, explosion-proof vacuums should be tested and certified by a Nationally Recognized Testing Lab, proving they meet the highest level of operational safety."
Combustible dust will continue to be a high regulatory priority on the OSHA agenda in the New Year; however, even without an OSHA standard, it is still up to manufacturers to take full responsibility for combustible dust safety. Although implementing the training and equipment necessary entails an added expense that can oftentimes be difficult to absorb, without such preventative measures, an even greater loss is possible that cannot be recovered from.
For more information on Nilfisk explosion-proof vacuums and to learn more about combustible dust preventative maintenance, visit http://www.explosionproof-vacuum.com.
About Nilfisk Industrial Vacuum Division
Nilfisk Industrial Vacuum Division, also known as Nilfisk-Advance America, Inc., is one of the largest providers of cleaning equipment in North America. From its Morgantown, PA headquarters, Nilfisk Industrial Vacuums supports three brands of industrial vacuum cleaners: Nilfisk, Nilfisk ALTO and Nilfisk CFM. Equipped with exceptionally efficient filtration systems and user-friendly features, the company's vacuums play a critical role in thousands of manufacturing facilities and industrial processes across North America. Supported by a direct sales force and extensive dealer network, Nilfisk Industrial Vacuums have solved a variety of cleaning challenges, including combustible dust, general maintenance, overhead cleaning, abatement, process integration, laboratory/cleanroom control, and more. For more information, visit http://www.explosionproof-vacuum.com.
# # #