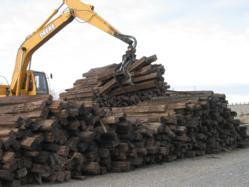 Our grapples have been designed for use in the rail industry by listening to our customers.
(PRWEB) January 17, 2012
Rotobec is pleased to announce new rail tie and rail handling attachments.
RAILROAD INDUSTRY ATTACHMENTS
Heavy-Duty Tie Bundle Grapple

This narrow, heavy-duty grapple has a large opening and straight jaws to handle railroad tie bundles. It is equipped with large, high-presser cylinders to generate the required pressure to hold the bundle firmly
Heavy-Duty Loose Tie Grapple

This heavy-duty grapple was deigned to handle bundles of loose railroad ties. Its jaws are thin and straight to be able to work along walls and to easily enter between ties.
Rail Bed Digging Clamshell

This narrow clamshell bucket was designed specifically to remove material from the railroad bed between ties, and is effective in achieving efficient railroad maintenance.
ELITE-XT LOADER
This loader stands in a class of its own, above all competition. It combines smoothness and precision along with high lift capacity. It's rotation movement is continuous and the loader is packed with extra features and accessories. The only thing it does not have is excess weight. It's tough but very lean; it weighs almost 20% less than its competitors, and mounts easily to trucks or railroad flatbeds for easy transportation. Also available with a grapple saw to assist in storm clean up duties where blowdown is an issue.
To view all the features, benefits and specifications of the Elite XT loader, click here.
Call or email for more technical information on these, or any other Rotobec products.
Mark Shukla
Director of Sales and Marketing
markshukla(at)gmail(dot)com
424.653.9019
# # #