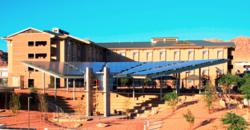 Twentynine Palms, CA (PRWEB) January 05, 2012
The Marine Corps Air Ground Combat Center (MCAGCC) at Twentynine Palms — in conjunction with the contracting agency, Southwest Division Naval Facilities Engineering Command (NAVFAC SW), and the Straub/Martin-Harris/ PGAL design-build team — recently celebrated the ribbon cutting and opening of the new breed of Bachelor Enlisted Quarters (BEQ) for enlisted Marines. The BEQ Package 9 campus was designed to meet the needs of today's Marines and makes a unique visual statement for this new generation of enlisted housing, while still maintaining cohesiveness with the Twentynine Palms Base surroundings. The unique interiors of these facilities complements the current Marine Corps initiative of supplying BEQ residents a home type of environment with upgraded interiors, warm colors and an apartment-like appearance as opposed to the institutional character of past Marine barracks.
Attendees at the ribbon cutting ceremony included Brigadier General George W. Smith, Jr. Commanding General, MAGTF Training Command and Commanding General, MCAGCC; Captain Michael D. Williamson, P.E., Commanding Officer, OICC MCIWEST; and the Joint Venture Team from Straub Martin-Harris. Richard Straub, along with Brigadier General Smith and Captain Williamson cut the ribbon for the official opening of the new facilities.
The three, four-story, 292,300 square foot BEQ buildings, with 574 living units, house 1,152 Marines. The sustainably designed facility has photovoltaic panels that offset 90% of the buildings energy usage. Specific site plan program elements include outdoor interactive sport courts and shaded barbeque areas for group socializing. The Campus maintains DoD compliance while incorporating lifestyle improving amenities. The continuous emergency access drive and paved exterior circulation meet the compliance requirements, while conveniences like gear/boot wash facilities, circuit training stations, and trash and recycling enclosures deliver the daily life improvements. Site amenities include: paved exterior plazas, batting cage, sand volleyball courts, a jogging track, fire pits, a covered amphitheater that seats 500, and a landmark tower element with a tile mural and movie projection screen.
Each BEQ has community and service core facilities including multipurpose rooms, internet cafés and laundry facilities. The interactive, centrally located core area in the lobby portion of the building is complete with billiards, table tennis, and informal seating areas accommodating over 20 people at one time. There is an enclosed theater area with over sized lounge seating for 37, which can also be used for group meetings. Additional interior areas include secured ground-floor laundry rooms with expansive folding tables and hanging areas. Other interior features include a gaming room for video gamers; a core kitchen to support the patio /barbecue areas and other group functions; and, a fully equipped Business Center that can also be used as a study area. The project was completed utilizing over 500,000 man hours without any lost time accidents.
Building for Excellence
The Straub/Martin-Harris joint venture was formed in August 2008 to leverage the combined experience of both firms in Design-Build, LEED Construction (and design), Value Engineering and Best Value construction delivery methods. Both companies share markets in Arizona, New Mexico, Utah, and Colorado. The Straub/Martin-Harris JV and PGAL are also currently performing as the Design-Builder for the new Marine Corps, Quality of Life Facilities Package 4 (BEQ, Support Facilities and Dining Hall) at MCAGCC Twentynine Palms, CA. Straub Construction is located at 202 West College, Fallbrook, CA 92028. (760) 414-9000. http://www.straubinc.com. Martin-Harris is located at 3030 South Highland Drive, Las Vegas, NV 89109. (702) 385-5257. http://www.martinharris.com. Since the 1946 opening of its first office in Houston (TX), PGAL has expanded to 11 regional locations providing architecture, interior design, engineering, design-build, sustainable design and program management services to highly diversified clients throughout the US and Mexico. PGAL's corporate office is located at 3131 Briarpark, Suite 200, Houston, Texas 77042. (713) 622-1444.
# # #