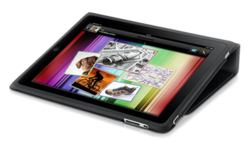 (PRWEB) January 25, 2012
LitVice announced launch of Wishboards, a top iPad app and online service providing the most creative, natural and easy way to share wishes using iPad.
"Wishboards is a completely new approach to wishlist services which is focused on user's convenience, self-expression and socialization opportunities," said Yuri Novokhatko, CEO of LitVice. "Wishes are an amazing and very personal attribute of a human life that cannot be truly reflected by means of insipid and boring wishlists. Now you can fully trust your wishes to Wishboards, creating a very special atmosphere around them: funny or philosophical, happy-go-lucky or austere. This revolutionary approach gives us the right to say that we have reinvented the wishlist".
Wishboards introduces a revolutionary approach to wish management which allows users to publish wishes easily with the help of a top iPad app and to demonstrate all the creativity at the same time. Unlike a wishlist, with Wishboards it is possible to arrange wishes as a beautiful set of images on a wishboard. For additional convenience Wishboards allows users to create several wishboards, distributing wishes among different categories such as e.g. "Gifts for my birthday", "Travels", "Christmas" or "Gadgets". Wishboards does not confine users' imagination - users are free to create as many wishboards as they need.
Adding wishes becomes really convenient with Wishboards. Wishboards allows users to apply images that can be found on the Internet or pictures from iPad Photos. Publication in Wishboards goes far beyond ordinary listing as users are free to place wishes as they like: rotate, scale and move them. All that helps users to make unique wishboards, and befitting a top iPad app's capabilities, allows them to literally touch wishes. Wishboards gives users opportunity to add an additional description to each wish created, specify price information, where to buy and indicate how strong a desire is.
With a completely new approach to a wish arrangement Wishboards makes it interesting and enjoyable to browse other users' wishes. Wishboards implements a Top Charts collection of users' wishboards - "By Rating", "By Popularity", "By Date". Convenient navigation provides comfortable flipping through pages, small graphical previews arranged in a grid help viewer to spot interesting wishboards, and such options as rating and commenting allow users to express the emotions evoked in the process of browsing the collections.
Wishboards can be accessed on the Internet with a web-browser as well with this top iPad app. And it helps users to share wishboards with friends by sending a link to an interesting wishboard via email. It is possible to use the iPad's Contact Book instead of typing every single e-mail by hands.
Wishboards allows people to find new friends. If one user likes wishboards of another, they may easily become friends with just one touch and keep track of their wishes in the future.
Pricing & Availability:
Wishboards application is available from the App Store for $1.99 (US).
Wishboards requires iPad with iOS 4.3 or later and Wi-Fi/3G connection to the Internet.
LitVice LLC website: http://www.litvice.com
Wishboards on AppStore: http://itunes.apple.com/us/app/wishboards/id454162615?ls=1&mt=8
Wishboards on the Internet: http://wishboards.litvice.com
LitVice LLC is a software and media company focused on consumer application development for various types of popular mobile platforms (iOS, Android), media services (Facebook) and original media projects development. LitVice was founded in 2010 with headquarters based in Russia, Moscow. The fundamental principle and primary objective for LitVice is to release user-friendly products meeting the highest quality standards and giving pleasure and rejoicing to the users. We know how to achieve this and look forward to keeping all the things carrying LitVice logo stylish, reliable, functional and useful for our clients.
Copyright (C) 2012 LitVice LLC. All Rights Reserved. Apple, the Apple logo, iPhone, iPod and iPad are registered trademarks of Apple Inc. in the U.S. and/or other countries.
###