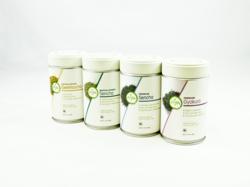 Torrance, CA (PRWEB) January 03, 2012
Aiya, the #1 largest manufacture of Matcha green tea, are launching new consumer size tins for their premium and organic Japanese loose leaf tea line. Matcha green tea is the most premium tea within the green tea category. Aiya has been manufacturing Matcha green tea since 1888 and distributing Matcha to the North American market since 2001. Although Matcha is Aiya's main product they have been offering high quality Japanese loose leaf tea products for the Tea industry in the US and Canada. This is the first time Aiya will start to offer the same high quality Japanese loose leaf tea in consumer friendly packages to the North American market.
At this time, Aiya is launching four varieties of both Conventional and USDA Organic Japanese loose leaf tea for North American consumers. The new line of loose leaf teas will include Premium Gyokuro, Premium Sencha and Matcha Infused Sencha in 80 gram tins, and Matcha Infused Genmaicha in 85 gram tins. The same kinds of loose leaf tea will also be offered in a USDA certified organic variety.
Aiya plans to officially launch these new items at the Fancy Food Show Winter 2012 in San Francisco taking place January 15-17, 2012. Please stop by Aiya America booth at booth #782. You will be able to taste and see our newly developed Aiya branded consumer friendly loose leaf products.
About US: Aiya America is a US branch of Aiya Co. Ltd., Aiya is the world's #1 manufacturer of premium Matcha green tea with over 40%, 60% and 70% market shares in Europe, Japan and North America respectively. For more than a century, Aiya has grown and manufactured the purest and highest of quality Matcha for the world to enjoy. Known for its innovation, consistent quality and safety, Aiya's mission is to share Matcha green tea and good health through the global education of its tradition and history. More information is available at http://www.Aiya-America.com.
Media Contact:
Fumi Sugita
General Manager - AIYA America
Tel: (310) 212-1395
Fax: (310)212-1386
fumi(at)aiya-america(dot)com
http://www.aiya-america.com
# # #