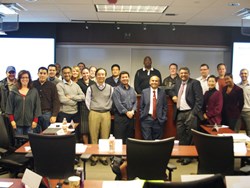 "Your talk fit in perfectly with class objectives – in fact it helped reinforce some of the things we had discussed prior to your talk," said Prof. Datta, on Deepak Datta's Medical Tourism presentation.
Arlington, Texas (PRWEB) January 04, 2012
On the invitation of Prof. Deepak K. Datta of the College of Business at the University of Texas at Arlington, Medical Tourism Corporation CEO, Mr. Deepak Datta, shared an insight on "Medical Tourism" with UTA Executive MBA Class, during their post-dinner session in a December evening class.
(There is no typing error! They both share the same name.)
Mr. Deepak Datta, at the executive MBA program of the University of Texas, talked about globalization in healthcare industry as related to Medical Tourism.
The practice of seeking medical treatments outside one's local healthcare system dates back to thousands of years, when people traveled to get treatments for various ailments in mineral water spas. However, technology, more efficient means of travel, and active involvement of mass media have contributed to a steady growth in the numbers of patients traveling overseas for surgeries.
Mr. Datta said that medical tourism is a regional phenomenon, with most medical tourists preferring to visit nearby countries for their healthcare needs.
While Americans and Canadians mostly head to Mexico and Costa Rica, people from Africa and the Middle East prefer to go to India. Korea is the medical destination of choice for many people from Japan, while Thailand is the top choice for most Australians& many countries in Europe.
Price, safety, travel distance, visa rules, local laws and quality of healthcare are obviously the chief considerations for medical tourists while deciding their healthcare destination, but some cultural influence is also noted. While US Hispanics head to Mexico, the Britons prefer other European countries.
A destination's reputation for a particular medical service also matters and some countries are more popular for certain procedures than others.
Surrogacy in India attracts many foreigners struggling with infertility issues. Cosmetic surgeries like breast implants, liposuction and hair transplant in India also have many takers because of their low prices. Treatments for heart problems and orthopedic treatments like knee replacement, hip replacement, cervical and lumbar spinal disc replacement in India are sought by people, who cannot afford them at their native places.
Low cost dental treatments and weight loss surgery in Mexico are preferred by Americans and Canadians, who do not want to travel too far for healthcare. Many Americans prefer to drive down to the border, get their root canals or dental implants in US-Mexico border clinics (which have mushroomed at a remarkable rate over the past few years) and return home the same day.
Many people also opt to get their dental implants in Costa Rica. Besides, they fly to get bariatric and cosmetic surgeries in these Latin American countries, because not only the prices are low, but also the treatments are high quality. Realizing the potential of medical tourism industry, the doctors are prepared to deal with medical tourists and accordingly arrange for English-speaking staff.
While the official and most commonly used language in Costa Rica is Spanish, it is not difficult to find a dentist or cosmetic surgeon in Costa Rica, who is fluent in English.
Low priced cosmetic surgery in Thailand is also a big draw for medical tourists as they not only get the cost advantage but also get to maintain privacy for their beauty enhancing treatments. Thailand, however, is preferred more by Australians as the distance is less and flights are relatively convenient.
Who wants to wait in long lines to see the dentists, when you can get immediate load dental implants in Thailand at less than half the price?
According to Mr. Datta, elective procedures like weight loss surgery, cosmetic surgery, fertility treatments and dental care are the most common medical services people travel for. This is probably because these are generally excluded from insurance coverage and a medical tourist is usually self-paying.
However, hospitals also get many foreign patients who are looking for more serious treatments like chemo or radiotherapy for cancer, heart valve repair/replacement, ivf treatments, knee/shoulder/elbow/hip replacement and other major surgeries because either the doctors at their home are too busy to quickly give them an appointment and relieve their pain or they are too expensive that an individual dreads upsetting his yearly budget if he decides to undergo a particular surgery.
The UTA MBA students got an overview of the medical tourism industry from someone who has been in the industry for over many years. Mr. Datta not only shared facts about the current trends in medical tourism, but also talked about the various factors that have fueled globalization of healthcare industry in the past decade.
He said that the unavailability of doctors or particular medical services at one's home turf, better quality of care in another country, and local healthcare services that are beyond one's financial means are the factors that drive medical tourism. Privacy issues at home also sometimes cause people to move out for their medical treatments.
Mr. Datta clearly dispelled the impression that Medical Tourism is a fast growing phenomenon, referring to a research that indicated closure of many medical tourism companies in North America.
However, he pointed that there is no reliable data gathering methodology to validate the number of medical tourists.
People who travel to get medical treatments away from their local healthcare systems are called medical tourists. Some do it to save money, while others travel in pursuit of better services abroad, or to maintain their privacy. Expats, home returning nonresidents, tourists availing emergency medical services, are also clubbed together as medical tourists. There are also some spa & wellness travelers, but they do not represent a strict medical tourist.
Patient numbers of Medical Tourism Co., a Texas-based medical tourism company run by Mr. Datta, have been growing at a significant rate since 2008, essentially due to extended network of hospital and doctors.Mr. Datta has continuously endeavored to join hands with the finest hospitals in several countries and is quite upbeat about the growth of the company in near future.
Medical Tourism Co. has networked with reputed hospitals in Mexico, Costa Rica, Belgium, Turkey, Jordan,El Salvador, South Korea, Thailand, and India, and over the past few years, the company has facilitated out-of-country medical treatments for over 2000 patients from the West.
The UTA MBA students also got to learn about the challenges faced by the patients and the hospitals in the globalization of healthcare industry, which include the absence of anyglobal standard patient outcome data, no clear cut follow-up regimen, language & cultural differences, safety issues at a medial destination, long travel, and complex visa laws in some countries.
Mr. Datta shared that patients are sometimes apprehensive of the quality of care offered in a foreign hospital and they are not certain about the follow up care since traveling long distances again is difficult.
On the hospitals' part, there is sometimes a lack of understanding the market. It is important to promote and provide what a medical traveler is looking for, and tourism, Mr. Datta says, is always secondary for these travelers.
Mr. Datta also explained how medical tourism works with medical insurance companies. He revealed that there have been some efforts in this direction but none has been very successful.
With the media hype surrounding medical treatments abroad, it is quite likely that hospitals in the west have started feeling a little threatened by the whole concept.
However, the vulnerability of American hospitals to medical tourism is not very convincing as majority of medical tourists travel abroad for elective procedures that are self-paying.
Had medical travel not been an option, they may have never got the procedure done in the first place at home.
Mr. Datta also noted that US probably benefits the most from the medical tourism industry, as thousands of patients from different parts of the world visit leading American hospitals like MD Anderson Cancer Center, Jackson Memorial Hospital, Cleveland Clinic, Mayo Clinic, John Hopkins, Harvard Medical, and others. Most of these patients are either wealthy individuals or sponsored by their home governments.
Towards the end of the presentation, Mr. Datta shared in which direction he sees the industry to be headed, and talked about the future of the US medical traveler.
Prof. Deepak K. Datta(UTA), an award-winning business teacher and researcher, had invited MTC's Deepak Datta to share his knowledge about the 'Globalization in the Healthcare Industry' with UTA MBA students.
Prof. Datta teaches in undergraduate, graduate and doctoral programs and UTA, and has also served as the visiting faculty in several international programs. He expressed gratitude for Mr. Datta's presentation in the UTA session, and said, "Your talk fit in perfectly with class objectives – in fact it helped reinforce some of the things we had discussed prior to your talk."
Later, the class felicitated Mr. Datta with UTA mementos.
###