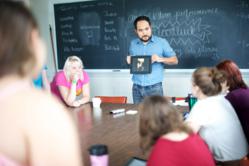 "Everything we do at BLUR is geared toward this current generation of young artists. We want to help them figure out how technology is changing the way art is made and consumed."
Sweet Briar, VA (PRWEB) January 03, 2012
Sweet Briar College is taking applications for The Blue Ridge Summer Institute for Young Artists, known as BLUR, which will be held June 17 through July 8 on its Amherst County, Va., campus.
Launched for the first time in June 2011, BLUR is a new kind of residential arts camp for high school students interested in theater, creative writing and visual art. As the shorthand name suggests, one of its foundational concepts is to blur the boundaries between art forms to imagine new ways of seeing, thinking and creating.
While participants concentrate in one area, spending two-thirds of their day deeply immersed in their disciplines, the rest of the time they work collaboratively on projects in other mediums.
A second essential component is technology, and several assignments require an Apple iPad. Students use the tablet computers to both create and record their work in drawings, writing, video and photography, which they can share through social media. The devices are included in the full tuition, but participants have the option of bringing their own or borrowing one provided by the program for a refundable deposit.
"Everything we do at BLUR is geared toward this current generation of young artists who are growing up with smartphones, iPads and social media," says BLUR founding director Dave Griffith, an assistant professor of creative writing at Sweet Briar. "We want to help them figure out how technology is changing the way art is made and consumed."
Sweet Briar's 3,250-acre campus also distinguishes the program. Students are encouraged to explore the land on their own and in organized outings. The natural and built landscape of forests, fields, academic village and reminders of the College's agrarian past inspire the students' work while providing the ideal artist's studio, indoors and out.
Additionally, the campus is home to two BLUR co-sponsors, Endstation Theatre Company, an energetic, young professional theater troupe-in-residence, and the Virginia Center for the Creative Arts, which is one of the largest artist communities in the country. Practicing artists from both organizations interact with and mentor BLUR students during their three-week residency.
In particular, the partnership with Endstation offers all participants — whether concentrating in theater, writing or visual art — behind-the-scenes experience in staging a professional theater production through the Blue Ridge Summer Theatre Festival, which runs concurrently with BLUR.
In its inaugural year, 26 students from California to New Jersey attended BLUR. Many discovered a kinship they had never experienced before.
"Some of us haven't been in an environment where the people are like us," 16-year-old Hannah Rae Bracey, an aspiring writer from Chesterfield, Va., told a reporter from the Lynchburg News & Advance. "We're at home, writing, acting and creating art, while other people are sitting in a corner going, 'Why are you doing that?' "
At BLUR, "we all fit together," she said. "It's phenomenal what everyone can do."
The need and the desire to nurture that creative spirit in young people gave rise to BLUR, Griffith says. The idea was bolstered by "The Creativity Crisis," a 2010 Newsweek article suggesting that children are less inventive than they used to be and consequently less prepared to be problem solvers in an increasingly complicated world.
Talking with colleagues at the time, "we agreed that arts education should do more than just encourage self-expression," Griffith said. "The arts can and should train students to think creatively and work collaboratively to solve problems in any area."
BLUR participants receive two hours of college credit for successfully completing the program. Women attendees who later enroll at Sweet Briar will receive a $2,000 tuition credit. Scholarships and day-student rates are available.
To apply or for more information about tuition, housing, teaching faculty and other program details, please visit sbc.edu/blur or send an e-mail to blur(at)sbc(dot)edu. Applications are due March 1, 2012.
You can follow BLUR on Facebook at BLURatSBC, Twitter at blur_institute and on Tumblr at bluratsbc.
# # #