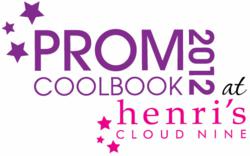 Lots and lots of sparkle is the theme for 2012 prom!"
Minerva, Ohio (PRWEB) January 09, 2012
The 2012 issue of the prom dress Cool Book has just been released. The 91-page prom fashionzine features the latest trends in prom fashion; prom dresses, shoes, jewelry and hair and reaches approximately 1 million teenage girls nationwide. The Cool Book features the exclusive line of Cool Collection prom gowns that are only available in 45 stores across the country.
The 2012 prom dresses trends span the design spectrum from poufy ball gowns to sexy, leg-revealing high-low dresses with elegant trains that make a sophisticated, yet sultry statement. The dress cuts are all form fitting, even the ball gowns, with curvaceous bodices and stunning beading and gems to slim the waistline and accentuate the bust and neckline.
"This year's fabrics and styles are amazing. The dresses are breathtaking." stated Christopher Widdoes, Creative Director for Henri's Cloud Nine and the Cool Book. "We've never seen such incredible silks, satins and taffetas with beading and sequins throughout the skirts. Big, chunky gems are sewed into the bodices. This year, everything glitters. Bright, pretty colors and sparkle, lots and lots of sparkle is the theme for 2012 prom!"
Prom accessories for 2012 are over-the-top glamorous and dripping with gems and rhinestones. The Cool Book features this year's styles in prom necklaces, earrings, bracelets and cuffs. It's head-to-toe glimmer, even the shoes, with Swarovski crystal studded 7" heels. For girls interested in a funky edge, this year's Cool Book features sequined covered hi-tops.
Each of the industry's top designers contribute exclusive gown designs to the Cool Book. This year's designers include Jovani, Tiffany, Tony Bowls, Panoply, Wow, Moonlight, Blush, Terani, Mori Lee, Night Moves, Partytime, Leigh International, Riva, Johnathan Kayne, Val Stefani and Vienna.
The Cool Book prom dresses and the prom accessories shown in the Cool Book are available at Henri's Cloud Nine with locations in Minerva and Columbus and on-line at http://www.henris.com.
###