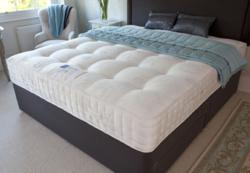 Purfleet, Essex (PRWEB UK) 3 January 2012
Sleepright have launched a brand new range of divan beds. The company who employed ex Bensons for Beds managers Bill Carrahar and Paul Burgham in July 2011 have been working on putting together a collection of beds that offers the consumer real value and quality whilst making the whole shopping experience easier than any other bed retailer.
The bed shop has 6 bed brands, each offering specific benefits to particular shopping and sleep needs.
1. Price Right Beds
The Price Right range of beds has been designed to offer high quality beds at an affordable price. Including a selection of open coil mattresses, this bed range is perfect for sleepers looking for maximum comfort as well as a lower price tag. The divan beds range also includes a range of fabrics and storage options for maximum flexibility.
2. Silent Night Collection
The Sleepright Silent Night bed range has been designed to offer customers a wide selection of high quality beds from a brand you know and trust. All beds in this range contain the famous 'Miracoil' spring system, which provides comfort and support for all shapes and sizes.
3. I-Fusion Beds
The quality engineering of the I-Fusion divan bed collection aims to use technology to provide its sleepers with the best night's sleep. Using extensive research from one of the world's largest bed manufacturers Simmons, the fabrics and materials used to make Sleepright's most technological bed and mattress range allows your mattress to breathe thus providing the sleeper with optimum comfort as well as support.
4. Rest Assured Beds
Rest Assured Beds are specifically designed with female sleepers in mind. Combining feminine and stylish design with upmarket quality, these divan beds are as comfortable as they are beautiful. Available in a range of fabrics, the mid-market range include premium pocket spring mattresses that respond to your body's movement ensuring optimum comfort and a great night's sleep.
5. Sleepeeze Back Care
If you need a little orthopaedic comfort from your divan bed and mattress, then the Sleepeeze Back Care collection is for you! The quality of this range is confirmed with two Royal Warrants for craftsmanship;, an accolade only provided for offering products of excellence to members of the Royal Family.
6. Sleepeeze Pocket Sovereign
As the name suggests, the Sleepeeze Pocket Sovereign bed collection is Sleepright's premiere collection of beds. These exclusive handcrafted beds are amongst the finest on the market and include pocket spring, wool and cashmere, Sleepeeze Pocket Sovereign bed making them a luxurious and comfortable option – without the price tag.
Sleepright is available online at SleepRight.co.uk as well as in standalone bed stores on retail parks around the UK. The Sleepright divan bed collection sits alongside Carpetright's existing range of chrome, leather and suede headboards as well as carpet and flooring products.
###