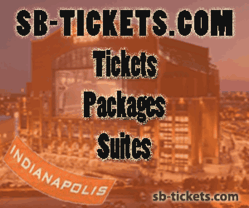 sb-tickets.com is preparing for the thousands of fans that will be purchasing Super Bowl Tickets.
Indianapolis, Indiana (PRWEB) January 22, 2012
While Indianapolis is preparing for Super Bowl XLVI which is just weeks away, Sb-Tickets.com is preparing for the thousands of fans who will be purchasing those Super Bowl Tickets this weekend.
Rolling Stone and Bacardi have announced plans to hold their first ever Super Bowl Party at the Crane Bay Events Center within walking distance to Lucas Oil Stadium which will take place on February 4th, 2012. Maxim has announced that their tailgate party across the street from the stadium will be in support of America's Military and Veterans.
Sb-Tickets.com has teamed up with the official reseller of Maxim Tickets to provide the most authentic inventory for this event. In addition to these parties will be Playboy's party at the Bud Light Hotel, ESPN will host their Next Party, Leather and Laces will have 2 nights of partying back to back on Friday and Saturday before the game. Other events include Katy Perry performing at the HDNet Party with Mark Cuban which will be hosted by Indy's own Peyton Manning and the Celebrity Beach Bowl at Victory Field which will include a special VIP area with open bar and food.
Pre-game festivities will be held in several different locations on Sunday, February 5th. There will be an official tailgate party and a pre-game party will be held at the Indiana State Museum which will include guest speaker Archie Manning with performances by Cirque USA. The Rock and Roll Tailgate and Maxim Tailgate will take place within walking distance to the stadium. Several other bars and local venues will be hosting their own, but none to the magnitude of the ones previously announced.
Hotels are almost completely gone and the ones left are getting heat for inflating prices 500% or more above normal rates. If a fan has $600 to spend per night then they will be able to afford a 2 star hotel, where most require a 4 night minimum stay. Downtown Hotels are fetching about $5,000 per night with pricing going back to the normal rates of $200 to $300 the night of the 6th with direct availability through the hotels.
Parking passes for official lots and garages around the stadium are now on sale. There will be no parking in the normal stadium lots. The official lots are within walking distance and will cost you $150 and up per space. Tailgating will only be allowed in private lots, where RV's are also allowed.
Super Bowl ticket prices are at their lowest right now. Under $2,500 will put yourself in the door and into a nose bleed seat. Around $7,000 will buy a seat between the 20 yard lines in the club section, street level. If someone prefers to be in a climate controlled environment then they will be spending upwards of $15,000 per ticket to be in a luxury suite, but will need to purchase between 30-40 tickets at once to reserve this space. A 50 yard line suite went for over a half a million dollars this past week! Even if someone has the money to spend, chances are a suite will not be available, since they're rare this year and sponsors have taken most of the entire suite inventory.
Prices can only be estimated. It is tradition that the day or two before the game, prices come down. This was not the case last year in Dallas where prices went up over 50% last minute and an upper level end zone ticket was at over $4,000 on game day. In order to avoid this risk it is recommend that tickets be purchased weeks in advance.
# # #