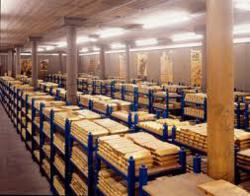 Mr. Ford say, "We appreciate all the support we get and the contributions show the growing concern for those that are less fortunate."
West Palm Beach Florida (PRWEB) January 15, 2012
World Food Organization has recently finalized a contract for fifty tons of gold bullion trading. World Food Association Organization has long been in the business of gold trading. However this contract is significant because World Food now represents the interest of some of the largest gold bullion traders worldwide. World Food founded the company Agrigolden LTD. to support its excavation of gold from Ghana, Mali, Togo and Cameroon. The normal capacity for World Food has been limited to 200 kilograms of Dore bars monthly from more than 300 mines throughout West Africa.
Mr. Henry Ford, Public Relations manager for World Food Organization and a Director of Agrigolden Ltd., stated, "Often times novice gold brokers speak of trading huge amounts of gold but have absolutely no experience in the gold markets. It takes excavating two-three tons of earth to mine one ounce of gold and people that state they have 3,000 kilograms of raw dust, Dore bars and mined gold just isn't feasible." Mr. Ford went on to say, "Any company that represents they can buy or sell Gold for greater than 3% to non-registered company is usually advertising a false claim. Gold is not hard to sell. Any person or company can sell at full market value minus 1% so there simply is not need to offer such discounts." Mr. Ford is no stranger to the gold industry. He has been trading Gold for almost twenty years and understands most international markets.
World Food has offices in Germany, Switzerland and most parts of the world; they are often approached by investors that have philanthropic aspirations but prefer to remain anonymous. Often times these people choose to donate gold or use World Food as a medium of exchange. Recently, World Food brokered a transaction for five tons of gold bullion. The gold has a value of more than 200,000,000 Euros. The profits of this gold transaction was used to help the goal of feeding the homeless in West Africa. Mr. Henry Ford is the general partner that handles the gold sales in conjunction with the Swiss based counterpart.
Mr. Ford commented, "We appreciate all the support we get and the contributions show the growing concern for those that are less fortunate." The company is currently seeking a suitable buyer to purchase the gold. The company has retained a Swiss company who will act as the broker to help sell the gold. No suitable offers have been made yet. However, World Food feels that this will not last long since gold is in such high demand.
# # #