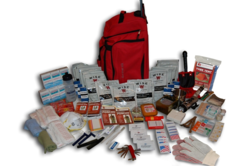 There are survival kits for everyone...
Janesville, WI (PRWEB) January 03, 2012
SurvivalTools-Equipment.com has 3 or 4 survival kits in 1. A 1 Person Preparedness Package is 3 Survival kits-n-1, there is also a Family Preparedness Package w/Food Storage that is designed to fill all of the preparedness needs by providing emergency supplies for the home, car, and one other location.
Preparedness Survival Kits is the best defense against a natural disaster or emergency situation. Calamities can hit an entire city in an instant. Whether the catastrophe is a product of nature's fury or manmade, people should be ready in the event that a disaster strikes. Disasters can include earthquakes, floods, fire or storms. There is information on how to respond to each of these scenarios. Information will in be determine by the type of disaster that is more likely to occur. If people live in coastal regions for instance, then floods are much more probable. It is a good idea to practice disaster drills with everyone in the household. Also be sure that there is a rallying point where everyone can meet up. It is also essential to have a survival kit that can easily be reached in a hurry.
There are several different types of survival kits. Most of them come with basic items, such as bandages, gauze, bottled water and nonperishable foods. They can be stored in a survival kit in a backpack and include additional items, such as extra pairs of clothes, blankets and a hand-cranked radio and flashlight. Survival kits come in different sizes.
A basic kit contains enough items for a small family. There are also larger sizes as well. They should kept in a convenience place, home or in the trunk of a car. Office managers should also keep a kit in the workplace and be sure that every staff member knows where it is located. Preparedness will ensure that everyone remains calm when a disaster hits. Being able to respond accordingly in emergency situations will increase the likelihood that everyone makes it out okay.
###