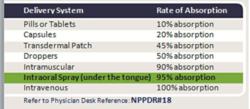 The Stem Cell Worx Sublingual Spray is the most advanced health supplement and the way of the future
(PRWEB) January 03, 2012
Stem Cell Worx produces a high grade natural health supplement called the Stem Cell Worx Intraoral Spray. Last month its repeat orders doubled in the U.S.A alone.
Ask CEO and Co-Founder of Stem Cell Worx, Tony Sampson why and he explains: "Our formulation is made from the highest grade of natural ingredients in the world and our delivery system of these nutrients is direct and unique compared to main stream applications like tablets and capsules. Our product is delivered sublingually which means it's sprayed under the tongue."
"Furthermore, Scientists now acknowledge that the number of adult stem cells in an organ and their functioning changes and declines as the body ages. The Stem Cell Worx Intraoral Spray helps release more of one's own natural adult stem cells (that are produced in the bone marrow) into the bloodstream which enables rebuilding to occur and faster recovery so people can return to their daily activities and exercise regime much more quickly."
Mr Sampson explains "It is scientifically proven that a sublingual (also referred to as intraoral) delivery method enables 95% of all nutrients to be absorbed directly into the bloodstream through the submucosal membrane (that sits directly under the tongue) compared to just 10% - 20% absorption that tablets and capsules provide. Most people don't know this and a lot of Health Professionals and Health Companies don't want to acknowledge it. The Intraoral method of absorption is one of the most effective ways to take nutrients to get maximum absorption into the body quickly."
As one gets older, one's absorption rate through the intestinal tract reduces, sometimes significantly, particularly when combined with serious health conditions or particular disorders such as acid or gastric reflux and ulcers. The intraoral spray method of delivery is also helpful for those individuals who have difficulty swallowing pills or capsules. It is also more cost effective as a lower dosage of nutrients is needed, as this is a very concentrated form of delivery.
Stem Cell Worx teamed up with leading Bio-chemists, Researchers and Doctors in the U.S.A. to bring this patent protected product to market. "The science is now here to enable us all to supplement our nutritional needs in the right way so we can all enjoy increased health and longevity," Sampson said.
The Stem Cell Worx Intraoral Spray is endorsed by Fouad Ghaly, M.D. Doctor Ghaly is a pioneer of wellness medicine with emphasis on healthy aging that incorporates both western and eastern medicine. Doctor Ghaly has over 40 years of medical experience and operates from his Regenerative Medicine Center in Torrance, California and is a Diplomat and Board Examiner on the American Board of Anti-Aging Medicine and a Scientific Board Member of the European Society of Regenerative Medicine.
Doctor Ghaly reports, "This natural health supplement aligns with today's new science. Our body is made up of over 50 trillion cells. It is vital our cells are enriched, nourished and maintained."
"The Stem Cell Worx Intraoral Spray helps activate one's own adult stem cells, strengthens the immune system and provides optimal support for the body's own repair and renewal system."
"I took this product myself and due to the significant improvements I noticed within weeks, I then recommended it to my patients. They are experiencing a much deeper, rejuvenated night's sleep, much greater energy levels, increased mental clarity and focus for long periods of time, rapid recovery and repair after exercise, surgery and illness, and an overall level of well-being and vitality."
Click here to see Doctor Ghaly speaking about the Stem Cell Worx product.
Over 750 clinical and scientific studies have been published showing the benefits on each key ingredient.
The main ingredients; New Zealand bovine colostrum; trans-resveratrol and fucoidan are sold individually in some selected health-food stores, but never in this combination or in this delivery method. Stem Cell Worx and its team of scientists and health experts developed the patent protected formulation to provide synergistic benefits that produce trifecta results.
Mr Sampson explains "It's like putting an octane booster into the petrol of your car: You are making your engine (your body) run more efficiently straight away, for a much longer period of time."
"Olympic Athletes have been stacking supplements for decades at different times of the year to give them a greater effect, faster results, better performance and faster recovery. Hence, they can train harder for longer."
Stem Cell Worx Intraoral Spray is available through the website - http://www.stemcellworx.com or call +1 310-513-3007 or email: stemcellworx(at)bigpond(dot)com
Top Supplement Check List
1) Carefully check the label to see how many milligrams (mgs) are in each ingredient. Bear in mind the absorption rates explained above.
2) Check the product does not contain hidden ingredients you don't want to be taking.
3) Always look for pure brands that are not loaded with fillers.
4) Check the supplement can be taken with other medications you may be taking. Some dietary supplements should not be taken if you are pregnant, expecting to get pregnant, if you are breast feeding or are on blood thinning medications or have a heart condition. Check with your Doctor.
5) Check pub med and scientific findings on each of the ingredients. Good resources to do this are:
Heartspring - http://heartspring.net
Science Direct - http://www.sciencedirect.com
Oxford Journals - http://services.oxfordjournals.org
Contact:
Maree Day
Director
Stem Cell Worx
Tel: +1 310-513-3002
Web: http://www.stemcellworx.com
Email: stemcellworx(at)bigpond(dot)com
References:
Rates of Absorption - Refer: Physician Desk Reference: NPPDR#18
Tony Sampson, CEO and Co-Founder of Stem Cell Worx
Fouad Ghaly, M.D and Proprietor of The Ghaly Center Regenerative Medicine, Torrance, CA
Video of Doctor Ghaly, Top Supplement Uncovered
###