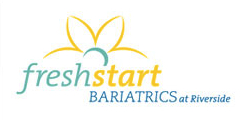 Columbus, Ohio (PRWEB) January 04, 2012
Fresh Start Bariatrics at Riverside Methodist Hospital is offering several new patient seminars in 2012, which can help individuals transform their health in the New Year.
"For those wishing to get a jumpstart on their New Year's Resolutions or plans to get healthy in 2012, this is a great opportunity to learn all about bariatric surgery," said Dr. Tom Sonnanstine. "In most circumstances, bariatric surgery helps resolve or improve Type II diabetes, hypertension, sleep apnea and other health conditions, so our new patient seminars are truly the first step on the journey to a healthier year."
The new patient seminars provide an opportunity for potential patients to learn about the different types of bariatric surgery and the Fresh Start Bariatrics program. Potential patients will meet and hear from bariatric surgeon Dr. Sonnanstine, who will give information about Fresh Start's multi-disciplinary program. Individuals will learn if bariatric surgery is right for them and have the opportunity to briefly meet with the Insurance Coordinator to start the process of determining insurance coverage for bariatric surgery.
All Fresh Start Bariatrics new patient seminars are on Wednesdays at 6 p.m. at the McConnell Heart Health Center. Dates of upcoming new patient seminars are: January 11, January 25, February 8, March 14, March 28, April 11, April 25, May 9, May 23, June 13 and June 27.
To learn more or to register for a seminar, visit http://www.freshstartbariatrics.com/BariatricSeminar or call (614) 4-HEALTH (443-2584).
About Fresh Start Bariatrics
Fresh Start Bariatrics at Riverside Methodist Hospital is a comprehensive weight loss surgery program that provides highly personalized services to lead patients on the path to regain their health. The program offers safe and effective surgical approaches to high quality, sustainable weight loss using advanced, minimally invasive techniques. To learn more about Fresh Start Bariatrics, visit http://www.freshstartbariatrics.com, and connect with Fresh Start on Facebook and Twitter.
###