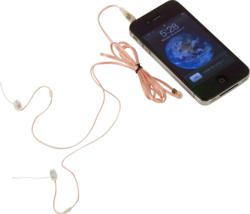 "Because your ear canal is left open, this gives the user the ability to hear the music signal and be aware of what is happening around them." said Audiologist, Matt Murphy. "It is an ideal product for a skier as it ensures their safety."
Boise, ID (PRWEB) January 03, 2012
http://www.earhero.com offers the worlds safest earphone. earHero's proprietary patent pending product uses miniature speakers that are so tiny they never block your ear canal.
Matt and Mali Murphy, husband and wife clinical audiologists, came up with the idea on a ski trip. They noticed it was very difficult to communicate with their group of friends because everyone was wearing traditional earphones.
Almost all earphones on the market today focus on isolating the user so they only hear the music. The Murphy's felt that wearing standard earphones was unsafe because it isolated the wearer from their environment.
They wanted a product that would allow them to listen to music while at the same time maintaining awareness of sounds around them. Being audiologist they used products that were typically found in the hearing aid industry and created a few prototypes for testing.
After 7 years they have finally developed a product that is small, comfortable, and have good sound quality.
In addition to the outdoor enthusiast market they have placed units in the government security industry.
The earHero can be purchased at http://www.earhero.com/catalog.
###