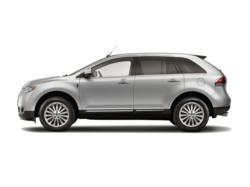 Newport News, VA (PRWEB) January 03, 2012
Hall Automotive is proud to announce Lincoln as the newest addition to our 12 brands in North Carolina and Virginia. The Lincoln franchise was previously owned by Pomoco. Hall Ford Lincoln will be located in Newport News - 12896 Jefferson Ave Newport News, Virginia 23608. Our new Lincoln addition was officially added on December 16, 2011.
"Ford has been a part of the Hall family of brands since the early 1980's and we are thrilled to welcome the Lincoln Brand to the Hall Ford location in Newport News. We look forward to exceeding the expectations of all existing Lincoln & Mercury owners as well as future buyers of the Lincoln Brand," says Bill Bakes, President & COO, Hall Automotive.
Hours of operation are as follows: Sales - Monday – Friday 9:00 AM – 8:00 PM & Saturday 9:00 AM – 6:00 PM and Service & Parts - Monday – Friday 7:30 AM – 7:00 PM & Saturday 8:00 AM – 5:00 PM.
As an addition to our Hall Ford Mitsubishi location, Lincoln will provide all new and used models. Including the new 2011 Lincoln MKX, with a 305-horsepower V-6, 3.7-liter under the hood, leaving behind last year's 265-horse, 3.5 liter. Lincoln offers a luxury class to our location with an already existing brand that is built Ford Tough!
About Hall Automotive, a MileOne Division:
The vision that continues to drive the company is the same as it was when the branding of the MileOne model was launched in 1999 to create a customer-focused, integrated network of automotive sales and service with the largest selection of manufacturer brands, easily accessible through convenient locations dedicated to allowing the customer to control the sales and service relationship. To that end, the company developed a plan for managing its growth. The initial phase of that plan was based upon the acquisition of successful businesses that shared the company's vision and standards regarding the value of lifetime relationships with customers.
About Divisions & Locations:
We strive to provide our customers with exceptional service from start to finish. It is our goal to offer the very best in customer service when purchasing and servicing your vehicle. We also work to provide you with relevant information about your car, smart purchasing plans and services specials. We want to give you the best we have to offer now and for years to come.
# # #