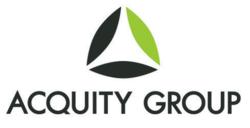 Chicago, IL (PRWEB) January 04, 2012
Acquity Group LLC, a leading global brand eCommerce and digital marketing company, today announced it was named Partner of the Year by Adobe Systems Incorporated at the company's annual worldwide sales conference.
Adobe's Partner of the Year designation recognizes a company for its outstanding delivery on every level of engagement. Acquity Group has driven millions of dollars in sales and introduced Adobe products to a variety of Fortune 500 companies in 55 different countries and 29 languages.
"Throughout the year, Acquity Group has shown incredible dedication and energy in supporting and driving Adobe business," said Bill Rusitzky vice president of Global Strategic Alliances, Adobe. "We are excited about the momentum Acquity Group has helped us build with Adobe® CQ and our Digital Marketing Suite, which are among the fastest growing parts of Adobe's business."
Acquity Group has been actively engaged in the positioning of Adobe CQ for nearly a decade, and has been working with the Adobe Digital Marketing Suite since 2010. In addition, Acquity Group has served as an integration partner of Day Software since 2002, prior to Adobe's acquisition of the company. The companies have worked together to support major brands in the implementation and management of Adobe's new generation of solutions designed to enrich the multi-channel customer experience. As Acquity Group focuses on delivering innovative, integrated digital brand experiences across platforms, its solutions effectively dovetail with Adobe's Digital Marketing strategy.
"Acquity Group and Adobe share a mutual vision to help our clients provide a simplified, enjoyable customer experience throughout multiple channels," said Andy Peebler, Senior Vice President at Acquity Group. "Leveraging the latest technological advances and an extremely effective software platform, we have enabled clients to streamline their offering and provide a consistent, user-friendly experience throughout all available channels, including mobile, web and call centers."
Joint clients include General Motors, Cooper Industries, AT&T, and McDonald's, among others. In addition to their strategic partnership, Adobe is also an Acquity Group client.
About Acquity Group
Acquity Group is a leading global Brand eCommerce and digital marketing company, creating award-winning digital experiences for global brands. Our multi-disciplinary approach brings together strategy, design, and technology to create brand-unique experiences that build firm customer relationships. Acquity Group works with leading brands like Adobe, AT&T, General Motors, Motorola, and Saks Fifth Avenue through offices in North America and Asia. To define a unique perspective for your business, contact Acquity Group at http://www.acquitygroup.com.
###