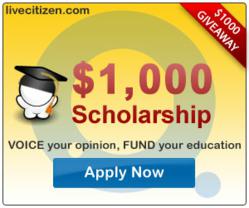 (PRWEB) January 05, 2012
LiveCitizen announced today that the "Quote for College" short quote contest, with a prize of $1,000 is now open and accepting submission from all students from 50 states. The contest is open on January 5th 2012 at 2PM (PST) and closes on January 31st at 1:59PM (PST).
Participants will enter a 360 characters or less quote incorporating one of the given political trending keywords (hash tags) by entering here: http://www.livecitizen.com/doc/campaign The quote with the most "agrees" "disagrees" and "requotes" will win.
LiveCitizen.com operates a political opinion social networking platform. The scholarship was created as a way to reach out to students, giving them a place to express their political view while helping to fund their education.
LiveCitizen.com is a project of Advanced Video Communications, Inc (AVC). Headquartered in downtown Los Angeles, AVC specializes in Video Chat, Rich Media and eCommerce systems utilizing cutting-edge technology and advanced development techniques. AVC provides online meetings, Web and video conferencing services to companies of any size.
Contact:
Cynthia Johnson
Cynthia(at)livecitizen(dot)com
(213) 228-1533
# # #