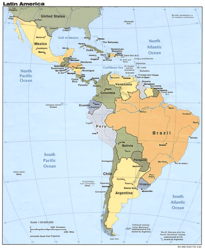 Our plan is to hit the ground running with IT security and compliance solutions to assist global enterprises as they set up shop in the region in 2012 and beyond.
(PRWEB) January 03, 2012
CorreLog, the leader in software solutions for IT security event correlation, today announced increased support in Latin America (LATAM) with the addition of a channel program office for the region. The LATAM channel program will be headed by Harold Yancey, a 30-year IT solutions veteran managing sales and distribution with companies such as 3Com and Cisco.
CorreLog software, which ships in both Spanish and Portuguese languages, will seek to expand its presence in the region with a Security Information and Event Management (SIEM) solutions portfolio that has been given a five-star rating by SC Magazine. CorreLog has several financial sector customers in Brazil and Argentina and looks to build on that foundation with the addition of Yancey and a channel strategy driven through a localized partner network.
"PCI DSS (payment card industry data security standards) has played a key role in our gaining a foothold in Latin America," said George Faucher, CorreLog president and CEO. "CorreLog meets industry standards across the board – PCI, NERC, HIPAA, SOX, FISMA – you name it, and we are particularly strong in payment card compliance with our File Integrity Monitor software."
Compliance will continue to be a critical factor for CorreLog in the region as manufacturers worldwide will be drawn to the region with its abundance of natural resources that are applicable to agriculture, mining, and energy.
"Latin America is very appealing to the global economy as we saw in China's investment there this past summer," Faucher added. "Our plan is to hit the ground running with IT security and compliance solutions to assist global enterprises as they set up shop in the region in 2012 and beyond."
IT Security resellers in Latin America interested in receiving more information on distribution rights for CorreLog enterprise solutions can either register here, email partners(at)correlog(dot)com or call (+1) 239-514-3331, extension 401.
About CorreLog: CorreLog, Inc. delivers security information and event management (SIEM) combined with deep correlation functions. CorreLog's flagship product, the CorreLog Security Correlation Server, combines log management, Syslog, Syslog-NG, SNMP, auto-learning functions, neural network technology, proprietary semantic correlation techniques and highly interoperable ticketing and reporting functions into a unique security solution. CorreLog furnishes an essential viewpoint on the activity of users, devices, and applications to proactively meet regulatory requirements, and provide verifiable and actionable information. CorreLog automatically identifies and responds to network attacks, suspicious behavior and policy violations by collecting, indexing and correlating user activity and event data to pinpoint security threats, allowing organizations to respond quickly to compliance violations, policy breaches, cyber attacks and insider threats. CorreLog provides auditing and forensic capabilities for organizations concerned with meeting SIEM requirements set forth by PCI DSS, HIPAA, SOX, FISMA, NERC, NCUA, and others. CorreLog markets its solutions through both direct and partner channels.
###