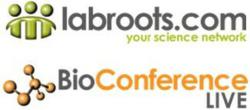 LabRoots and BioConference Live offer an avenue to deliver rich content as well as interact with the many people who engage virtual events and social media - Keith Bisogno, VP Brand Marketing, Thermo Fisher Scientific
Yorba Linda, CA (PRWEB) January 04, 2012
LabRoots, a free social networking website catered to the scientific community, and BioConference Live, the world's largest producer of virtual events within the Life Sciences, Clinical Diagnostics, and Laboratory Animal Sciences community - today announced the initial slate of sponsors for 2012. Leading sponsors include: Abcam, AB SCIEX, Bio-Rad, Cardinal Health, Enzo Life Sciences, EMD Millipore, Epitomics, GE Healthcare, Gilson, Harvard Apparatus, Qiagen, Randox, Roche, Shimadzu, Siemens, Techniplast, Thermo Scientific, TTP Labtech, and many more.
"We're developing more and stronger connections in the scientific community online every day," said Keith Bisogno, VP Brand Marketing, Thermo Fisher Scientific. "LabRoots and BioConference Live offer an avenue to deliver rich content as well as interact with the many people who engage virtual events and social media."
LabRoots continues to grow in traffic, content and functionality. Our 500,000 monthly unique users engage with the features and other users to connect, collaborate and learn. All LabRoots registrants can view and post content, free of charge such: as Videos, Podcasts, Groups, News, Reviews, Press Releases, Jobs, Publications, Blogs, Events, Forums, Tools & Widgets, and much more.
"I was very impressed with the reach and response of our sponsored presentation this year," said Kevin Hrusovsky, President and CEO, Caliper Life Sciences. "BioConference Live is a high efficiency way for the life sciences and clinical diagnostics industry to collaborate."
BioConference Live extends the experience of the LabRoots social network with live virtual events featuring streaming video presentations, live chat and a virtual exhibit floor. To register and attend these groundbreaking online conferences for free, or learn more about presentation or sponsorship opportunities, visit http://www.BioConferenceLive.com.
"Bioconference Live is an ideal opportunity to connect with an international community of life sciences and clinical diagnostics experts," said G. Steven Burrill, President and CEO, Burrill & Company. "I expect BioConference Live will raise the bar for tradeshows everywhere because it provides a globally accessible virtual environment."
About LabRoots - http://www.LabRoots.com
LabRoots is a social networking utility designed to network the scientific and medical community based on individual scientific experience, discipline, and aptitude. LabRoots fosters world-wide scientific communication and incorporates the newest social networking technologies. LabRoots allows it's users to connect with each other as they describe their interests on a myriad of unique features and tools, discovering meaningful collaborations across geographic boundaries and fields of expertise.
About BioConference Live - http://www.BioConferenceLive.com
BioConference Live is the world's largest producer of virtual events within the Life Sciences, Clinical Diagnostics, and Laboratory Animal Sciences community. These online events bring together physicians, researchers, clinicians, and professionals from around the world. BioConference Live offers an amazing opportunity as it is free to participants, and there is no out-of-pocket expenses for travel. However, participants will still benefit from interacting with a global community of like-minded colleagues, without leaving the comfort of their office or home.
BioConference Live and LabRoots are trademarks of LabRoots, Inc. All other trademarks or service marks are property of their respective owners.
# # #