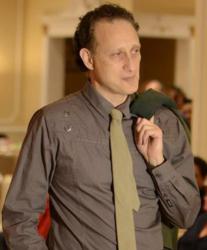 Remarkable new advances in dental technology make remote treatment options a reality, observes Dr. Robert Korwin.
Middletown and Red Bank, New Jersey (PRWEB) January 16, 2012
When patient Mr. Robert K. needed help with a chronic TMD problem, he consulted expert General Dentist Dr. Robert Korwin for help. What is unusual is that Dr. Korwin and his patient are 7,500 miles apart. Robert K. lives and works in Tanzania, Africa, and Dr. Korwin's practice is in New Jersey. At the one day visit to Dr. Korwin's practice one month ago, to correct Robert's severe facial pain, New Jersey Dentist Dr. Robert Korwin diagnosed that Robert's chronic discomfort also originated from orthodontic crowding and malpositioning of his teeth.
After a thorough exam and diagnostic radiographs and impressions, Dr. Korwin and his patient reviewed the options available and decided that because of the long distances involved, straightening Robert's teeth with Invisalign Aligners would be the most practical course of treatment. The brackets and wires used in traditional orthodontic treatment can be easily dislodged. A loose bracket or wire requires an immediate visit to the dentist to repair, so was judged to be impractical in this long distance situation. The Invisalign solution for Robert K. was designed to eliminate the usual bonded attachments and Interproximal Reduction required for most orthodontic cases treated with Invisalign, simplifying care.
That same day, a two phase polyvinyl siloxane impression was taken and sent to Align Technology in San Jose, California for computerized scanning. Using the prescription submitted by Dr. Korwin, a course of treatment was outlined and simulated on computer for the doctor's review. The planned treatment was revised and then approved by Dr. Korwin. The treatment plan was e-mailed to the patient in Tanzania for his approval, and then a series of clear plastic trays to guide patient Robert K's teeth into the proper alignment was authorized to be made by Align Technology in Costa Rica. Over the holiday season the trays were sent by way of Dr. Korwin's office in New Jersey, to Houston, Texas and then via courier to Tanzania, Africa.
Dr. Korwin and Robert K. are now in frequent communication via e mail and internet telephone during the planned course of treatment which will take approximately 6 months to complete. Patient Robert K. is planning to visit New Jersey in the spring for a mid-course review and correction if necessary, and then back to Tanzania for the rest of the year, and the balance of the treatment. Dr. Korwin's patients travel from Singapore, Switzerland, and all points in between for expert care in his New Jersey practice.
For more information, and an appointment please visit http://www.drkorwin.com or call (732) 219-8900.
About Our Practice:
Robert Korwin DMD, MICOI, MAGD is a renowned general dentist, teacher and innovator practicing in Middletown and Red Bank, NJ. With extensive academic, clinical and didactic training, he is one of only a handful of dentists worldwide who have dual Mastership awards from The Academy of General Dentistry and The International College of Oral Implantologists. Dr. Korwin promotes excellence in preventing orally linked disease and provides highly cosmetic dental repair and reconstruction utilizing orthodontics, implants, surgery, prosthetics and sedation, with laser, digital and computer assisted diagnostics. The practice works with patients to maximize their dental health, ensure their comfort and minimize financial concerns. For the last thirty years we have emphasized the importance of the link between oral bacteria and systemic disease. To diagnose this hidden problem, our family of patients has always been screened at every visit for the presence of periodontitis. More evidence is being published about the correlation between periodontal inflammation and systemic disease, and it is highly important to bring this information to the public. We have a long record of interceptive and preventive oral health care and we are pleased to help control and prevent oral disease.
# # #