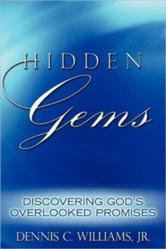 Bellingham, WA (PRWEB) January 03, 2012
God gave Moses a promise that would endure for a thousand generations – something applicable for every Christian. It's so exciting Moses repeats it 20 times! It's powerful, provocative and has broad implications. Yet, it's frequently overlooked. Author Dennis C. Williams, Jr., puts this message in the heart of his newly-released book, Hidden Gems: Discovering God's Overlooked Promises (published by CrossBooks).
"God's promise was given to encourage and enable us to know by experience that He always has our best interest in mind. He can be trusted," says Williams. "Too many of us miss the joy of intimacy with God. We've never learned the beauty and power that faith can bring to our daily experience. Too often the focus of our experience is on either going to heaven or avoiding hell."
Hidden Gems provides a fresh and personal look at how to love God and effectively communicate with Him. Using Scripture, Hidden Gems provides fresh and relevant insights into God's intent for our lives. Readers learn to joyfully embrace His counsel, claim His promises and watch Him act. Williams shows how readers can begin tackling today's problems and discover God's relevance. "Create your own love story!" exclaims Williams.
"Written to transform our lives, this book creates for readers an expectant anticipation of our journey ahead and a realization of past opportunities missed." Williams shares his personal story of dreams renewed, challenges confronted and God's consistent faithfulness.
Says reader Martha Friesen: "Using scripture and testimonials, Hidden Gems has provided me with the keys I've needed to grow closer and closer to God. It's provided just what my husband and I were looking for. It's been a tremendous blessing to us."
About the Author
Dennis C. Williams, Jr., is passionate about enriching people's lives. With over 25 years of executive experience, he is the creator of CashMap, an educational interactive iPad application that teaches people how to save thousands of dollars and boost their savings. He graduated from Loma Linda University with a B.A. in biology and completed an M.B.A. from the University of Hawaii. He and his wife, Linda, have three children and live in Bellingham, Washington. Additional information can be found at http://www.overlookedpromises.com or by contacting the author at dennis(at)overlookedpromises(dot)com.
CrossBooks, a division of LifeWay Christian Resources of the Southern Baptist Convention, is a Christian publishing imprint committed to bringing more Christian voices into the publishing industry. Established authors, first-time authors, and authors anywhere in between can meet their goals and fulfill their vision for their books by publishing with CrossBooks. CrossBooks' innovative style of publishing blends the best of traditional and self-publishing. While our authors contribute monetarily to cover the cost of publishing, we maintain a strict moral and quality standard that every manuscript must meet for us to publish. For more information on publishing your Christian book with CrossBooks, log on to crossbooks.com or call 1-866-879-0502.
###