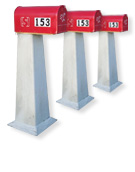 Not many people know we offer this particular product, but those that do can testify that the value of it cannot be underestimated
Amesbury, MA (PRWEB) January 04, 2012
Shea Concrete, one of the largest precast manufacturers in New England, has announced the relaunch of its Frost Post product line. The decision was reinforced by the recent influx of demand and campaigning from residential contractors. "Not many people know we offer this particular product, but those that do can testify that the value of it cannot be underestimated," commented Greg Stratis, the manager of the Amesbury location.
Every residential contractor can relate to the hours spent on the construction of decks and three season porches. One stage in particular stands out from the rest in terms of importance and conciseness: setting, stabilizing and leveling the foundation footings. The Frost Post is specifically engineered and produced to shorten the time frame for this task without sacrificing any structural fortitude.
"We are always listening to our customers and value their opinions on the performance of our products," noted Stratis. "It is our goal to make their jobs easier by providing them with the very best in product design and capabilities. I feel that our Frost Post successfully alters the way in which a deck can be built. I am also intrigued at some of the other more recent applications I have seen the Frost Posts used for, notably mailboxes, gates, and signs."
Shea Concrete took into consideration all angles in the development, design, and implementation of the post. The final product has significant advantages over the traditional method of pouring concrete on site including:

Installation in any weather
Eliminates the dependency of ordering, coordinating, and utilizing ready mix concrete
Attached footings and anchor cast provide easy installation
No performance lag
Available in 8" and 16" square profiles
Readily available at all the Shea Concrete locations
To learn more about the Frost Post or to obtain product specification information, contact your local Shea Concrete facility or visit http://www.SheaConcrete.com.
About Shea Concrete
Family-owned and operated since 1949, Shea Concrete is one of New England's largest suppliers of precast concrete products, serving both commercial and residential industries. As a National Precast Concrete Association (NPCA)-certified company, Shea Concrete's manufacturing plants consistently operate at the highest standards of production and quality control. Shea Concrete produces environmentally safe concrete products, including sewage and drainage systems, barriers and curbs, utility structures and Shea block retaining walls. Other precast concrete products include bulkhead, side entry, and standard steps. Serving all of New England, Shea Concrete is headquartered in Wilmington, Massachusetts, with additional locations in Rochester, Massachusetts, Amesbury, Massachusetts, and Nottingham, New Hampshire. For more information, please visit http://www.SheaConcrete.com.
###