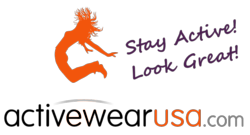 Charlotte, North Carolina (PRWEB) January 03, 2012
ActivewearUSA.com today announced it has acquired certain assets of DeezFit, a Minneapolis, Minnesota based company that sells fashionable women's performance activewear.
Through this acquisition, ActivewearUSA.com expands its customer base with individuals that are proven to enjoy and purchase women's activewear online.
"Dee Burton has done a wonderful job growing DeezFit as an on-line retailer of high-performance women's activewear" says Avi Woolman, Founder and CEO of ActivewearUSA.com. "We look forward to providing DeezFit customers with the same fantastic customer service they have received from DeezFit to date, and providing them with more than 60 additional high performance women's activewear brands to choose from."
As part of the acquisition, Dee Burton, CEO of DeezFit, will join the advisory board of ActivewearUSA.com.
"I am delighted to be involved with ActivewearUSA.com", says Dee Burton. "This will allow our customers to buy an even greater set of activewear brands from the leading multi-brand activewear company with a strong focus on customer service. Moreover ActivewearUSA.com sells activewear brands that our clientele is already familiar with, such as Margarita Activewear, Alo, MPG, Bluefish, Element V and many more."
About DeezFit
As a certified fitness instructor and personal trainer, Dee Burton has seen it all. Dee believes that wearing the right clothes at they gym can make you feel amazing enough to go the extra distance in the gym and beyond. Dee has worked with scores of professional athletes and taught hundreds of fitness classes, but she is still a fashionista at heart. Since her life revolves around hard workouts and high style, Dee made it her mission to find athletic wear that delivers on both function and fashion.
About ActivewearUSA.com
ActivewearUSA.com was founded with the goal of providing the best yoga clothing and women's workout clothes on the market, to encourage women to look and feel their best while enhancing their life through fitness. ActivewearUSA.com carries more than 70 high performance, super stylish activewear brands.
###