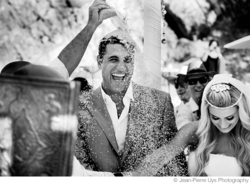 Seattle, WA (PRWEB) January 04, 2012
Featuring 50 of the best wedding images of 2011, and chosen from nearly 5,000 images and submitted by 500 of today's top wedding photographers, Junebug's Best of the Best Collection features the work of master wedding photographers like Jerry Ghionis, Ben Chrisman, Susan Stripling, and Marcus Bell along with some not-to-be-missed rising stars.
The 4th annual Best of the Best Collection for Junebug Weddings, this year's feature will attract tens of thousands of couples, editors, photographers, and photo aficionados looking to see stand-alone images that define the art of wedding photography. From the hilarious to heartbreaking, the Collection will showcase expertly executed traditional photographs and daringly different images, all destined to set trends in the world of wedding photography.
Launched on July 1st, 2006, the Junebug Weddings website was created by three Seattle women wedding photographers driven to make wedding planning easier for couples by providing encouraging editorial with an emphasis on personal style, and the most trusted, highly-vetted Hotlists of top wedding professionals found online. In the last five years, Junebug Weddings has expanded their editorial features to include two internationally popular blogs, What Junebug Loves and Photobug, and expanded their Hotlists to include the best wedding photographers and the best wedding planners and designers in the world. Today, Junebug Weddings is a leader in the online wedding industry, which now includes thousands of blogs, resources, and online magazines.
###