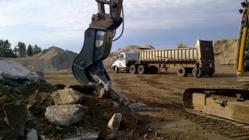 Tough handling and crushing attachments
(PRWEB) January 18, 2012
The VF Concrete Crusher is designed to work specifically in ground based secondary demolition. The unit is also designed to sort rebar from crushed material. When used in material reduction, it is an extremely effective tool for the demolition contractor.
FEATURES

Simple and reliable
Wide jaw opening dimension
Speed valve for a further increase in opening/closing speed
Mobile jaw features removable and interchangeable teeth
Excellent crushing force
VTN Rotobec produces five difference models of the VF Concrete Crusher that are compatible with excavators ranging from 12-55 tons.
For spec sheets and complete technical data on the VF concrete crusher, please visit rotobec.com or contact:
Mark Shukla
Director of Sales and Marketing
North America
P. (425) 653-9019
E. markshukla(at)gmail(dot)com
###