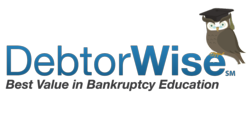 Our goal is to help those hurt most by the ongoing recession by demonstrating that American workers can outperform their offshore competitors
Rochester, NY (PRWEB) January 03, 2012
The DebtorWise Foundation is proud to announce its newly formed Call Center and its multicultural workforce. This staff diversity is the basis for the Foundation's newest service innovation: Concierge Credit Counseling Sessions. A first for the bankruptcy education industry, bankruptcy filers can schedule required counseling sessions with a certified Credit Counselor of their choice whose personal experiences and background best suits the client's unique circumstances. For instance, senior citizens can select more experienced counselors, immigrants can choose foreign-born staff, and young adults can request younger counselors. The Concierge Counseling sessions can be scheduled in advance via email to accommodate the time constraints and personal preferences of DebtorWise clients.
With a stagnant economy and scarce jobs in ever greater demand, the DebtorWise Foundation has offered new hope and help to over 20 families who faced bleak prospects during the holiday season. DebtorWise—the nation's leader in bankruptcy education and consumer financial education—has effectively utilized a public job training program to select, train, and hire unemployed and underemployed workers to become certified Credit Counselors in its downtown offices. Founded by renown consumer finance scholar/advocate, Dr. Robert D. Manning, DebtorWise is a technology innovator in the field of consumer financial services with its cutting-edge online products and services. Its new online, mortgage modification assessments/software will be available next month as DebtorWise expands its focus to the continuing housing crisis.
According to Dr. Manning, author of such notable books as Credit Card Nation and Living With Debt, "The ongoing trend to outsource consumer services is a major cause of the current financial crisis… it is especially detrimental to lower educated and lower income workers. At DebtorWise, we believe that investing in new technology and training our staff to use more efficient computer-guided techniques can produce good jobs with satisfying careers. Our goal is to help those hurt most by the ongoing recession by demonstrating that American workers can outperform their offshore competitors." With its outreach efforts in urban Rochester, DebtorWise has already taken over 20 workers off the unemployment and public assistance rolls-- including military veterans.
As Americans reflect on the events of 2011 during this time of year, the commitment of companies like DebtorWise to help its most distressed citizens offers an instructive example of the programs and policies that will successfully surmount the ongoing recession. As Luz, a mother of six who was previously employed part-time in a fast-food restaurant explains, "DebtorWise gave me and my family hope that there are still opportunities for people like me who work hard and will be rewarded with a good job and respect at work… And, I better understand the difficulties and financial stress of those filing for bankruptcy. I tell them they are going through a tough time but there is a better future ahead for them. I tell'm, Honey, I've been there."
For more about DebtorWise and Dr. Manning, please contact us at 585-563-7715
# # #