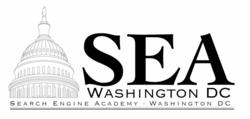 One more thing to make our SEO training more attractive to folks is to let them know there's at least one resource in the Washington DC area that places SEO specialists in temporary and freelance SEO positions
Washington DC (PRWEB) January 09, 2012
Search Engine Academy Washington DC (SEA DC) is preparing to teach its five day course in training for work in SEO as a career for anyone who has been laid off and is committed to learning new skills to become more employable. Retired and discharged military, national guard and reserve military personnel may also be interested in getting SEO trained and certified to start their civilian career.
What is new for 2012 is that SEA DC will refer graduates to the Washington DC office of Onward Search,a recruiting firm that places SEO professionals in temporary and freelance positions, as well as interactive designers, Internet marketers and mobile development professionals all across the D.C metro area.
"One more thing to make our SEO training more attractive to folks is to let them know there's at least one resource in the Washington DC area that places SEO specialists in temporary and freelance SEO positions, ranging from junior SEO specialists to senior level jobs. So many people wonder how they're going to get work in SEO if they invest money and time in our SEO training, and this is one avenue they can take advantage of," according to Nancy E. Wigal, the owner and operator of Search Engine Academy Washington DC (SEA DC).
The demand for SEO specialists, both as in house and free lance consultants is growing. The demand often exceeds supply, so anyone interested in training for work as an SEO expert will find themselves work, if they master job interviewing techniques and associated career transition steps.
SEO training and certification is available at SEA DC or the other Search Engine Academy locations in the U.S. and Canada. Regularly scheduled classes are now available to register for, and SEA DC works with individuals to provide the training outside of normally scheduled workshops.
"I work hard to accommodate schedules for attendees. If they're willing to invest the time and are brave enough to do what it takes to make a career change, I want to do what I can to help them achieve their goal," said Nancy.
Search Engine Academy SEO training courses are taught face to face. Attendees bring a laptop to class that is capable of accessing the internet. All course materials are provided by SEA DC. Classes are kept small to allow students personalized instruction. Upon successful completion of the five day SEO master comprehensive course, attendees receive six months' SEO mentoring free of charge.
Search Engine Academy was co-founded by John Alexander and Robin Nobles. In addition to the five day SEO master comprehensive course, SEA offers a two day basic SEO course and a three day advanced SEO class for anyone with a website that does not show up high in search results.
###