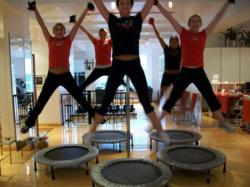 Experience the excitement of New York City, while burning calories!
New York, NY (PRWEB) January 03, 2012
A Smart Workout vacation day starts out with small group exercise classes (never more than 6 in a class), selected from more than 30 different types of classes, including Pilates on the Reformer Machine, TRX Suspension, Pole Dancing, as well as traditional favorites like Yoga, Kickboxing, and so many more.
Then, a cooking demonstration and a chat with a Smart Workout nutritionist, gives guests shopping and cooking tips that can genuinely be sustained when they return to the demands of their real world lives.
And then the group is taken out on the town, to experience the excitement of New York City, all the while burning calories.
In the winter there will be ice skating lessons in Bryant Park, and in the summer there will be rollerblading along the Hudson River Path.
"Walks" will include the Highline, the paths of the Cloisters, the trails in the Bronx Zoo, and the waterfront of City Island.
"Walks" through the Metropolitan Museum and the American Museum of Natural History, will be done while wearing pedometers, and reaching fitness goals.
Guests will indulge in decadent spas, take in some theatre, and go to dance centers for lessons in Salsa and Swing.
Dinners will be had in first class restaurants, with selections prearranged to combine low calories with the culinary skills of master chefs.
Smart Workout's tours are offered fully escorted, and "all inclusive," with activites planned for every moment of the stay. The package price covers every expense, including taxes and gratuities.
Guests from the New York City region can be "on vacation" in minutes, instead of having to spend precious vacation time traveling to destinations many hours away. [And for those who live really close, Smart Workout vacation packages can be purchased without hotel]
For further details and information, please visit http://www.smartworkout.net/fitnessvacation and contact:
Smart Workout
124 East 40th Street, Suite 603
New York, NY 10016
(212) 661-1660
###