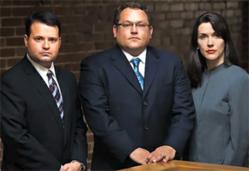 You'd be surprised how many unsuspecting drivers will hit a patch of ice, especially on an overpass, and the next thing they know they are spinning out of control
Oklahoma City, Oklahoma (PRWEB) January 03, 2012
Winter is nearly here and Oklahoma City Accident Lawyer Jason Byrd wants to tell motorists everywhere that they need to start driving more defensively. This is due to the fact that icy road conditions are not at all uncommon during the winter season.
"You'd be surprised how many unsuspecting drivers will hit a patch of ice, especially on an overpass, and the next thing they know they are spinning out of control," Jason Byrd explains.
He goes on to say that the best offense is a best defense. In other words, "Simply keep a watchful eye. The fact of the matter is—you can never really be too careful."
Beyond driving defensively, Byrd says if people do find themselves sliding on ice, they should make sure not to hit the brakes.
"One of the key mistakes is breaking when in a slide. This will cause a motorist to lose control of the car. And before you know it, you'll be calling the Byrd Law Firm for an Oklahoma City Accident Lawyer!"
To get more information on winter driving stats, as well as to speak with an Oklahoma City Accident Lawyer, simply visit txbyrd.com.
About the Byrd Law Firm and Oklahoma City Accident Lawyer Services
The Byrd Law Firm specializes in offering Oklahoma City Accident Lawyer services to those who have been injured in a variety of scenarios. These accidents could involve vehicles, chemicals, or any other hazards one might encounter. The firm has been open since 2005 and has a history filled with decisive victories. Each lawyer employed by the Byrd Law Firm came from pasts involving representing larger corporation. Now they strive to help individuals facing larger entities. More information may be found at http://www.txbyrd.com.
# # #