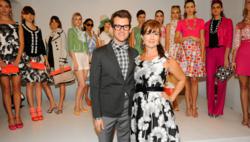 I am thrilled and honored to be working with such an iconic brand as kate spade new york. Deborah and her team have set an incredible standard in fashion and I couldn't be more excited to get to work on a brand I have long admired. - Brad Goreski
New York, NY (PRWEB) January 02, 2012
kate spade new york today announced celebrity stylist Brad Goreski has signed a two year deal to work in conjunction with President and Creative Director, Deborah Lloyd, to be the brand's exclusive stylist.
In this position, Mr. Goreski will be responsible for styling the brand's 2012 and 2013 advertising campaigns, e-commerce shoots, press events and fashion presentations. Additionally, he will select his seasonal favorite must have items to be featured on katespade.com
Deborah Lloyd said, "Working with Brad is such a joy. He has a natural affinity for the aesthetic of the brand and is someone whom I trust completely. It is the first time that I've been able to leave the room and come back to find everything is done and exactly how I envisioned it!"
"I am thrilled and honored to be working with such an iconic brand as kate spade new york. Deborah and her team have set an incredible standard in fashion and I couldn't be more excited to get to work on a brand I have long admired," commented Mr. Goreski.
Known for his show on Bravo It's a Brad Brad World, Mr. Goreski has established himself as a fashion expert having worked with such publications as InStyle, Vogue and Details in addition to his work styling celebrities including, Jessica Alba, Christina Ricci, Noomi Rapace and Demi Moore.
###