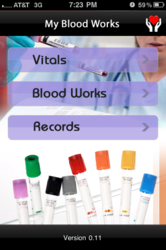 "This APP is great, I track my diabetes,Lupus and my Kidney Transplant levels with "MBW" says Sandra who depends on "My Blood Works".
(PRWEB) January 19, 2012
"My Blood Works" will track all of a user's medication on one easy to use screen. Always have access to medications whenever or wherever a user may need to refer to them. Once people are on multiple pills it gets harder to remember all of the details on all medications. User's won't have to remember them with "My Blood Works" now that they are in their device for easy access including name, dosage, strength, when to take and whatever information you want stored.
Use the large description field to put any details you want in "My Blood Works".
Other features on "My BloodWorks" include a complete tracking ability for any blood tests, keeping a very detailed functional tracking for blood pressure, and a screen for any appointments a person has. A screen for emergency phone numbers will dial out right from there.The final screen is for medical events called "My Records."
All values in "My BloodWorks" are date stamped.
All information within "My BloodWorks" is stored in the APP only. The developer nor any third party have access to "My BloodWorks" APP. Always consult a Physician.
###